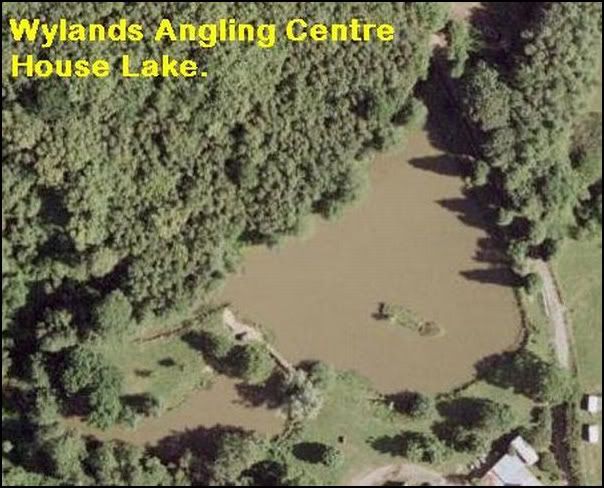 Once more it's time for the annual Maggotdrowning Southern Fur & Feather match and once again we're down at Wylands on House Lake. Various things conspired against me this morning meaning that I was running a little late as I loaded up the car, so I rang Mick the Chippy and asked him to draw for me if I was a little late arriving. Now after last year when there was no hot food to be had from the tea hut I made a quick stop on route for a couple of sausage & egg McMuffins to fuel me up for the day ahead. Thankfully a smooth trip down saw me pulling into the fishery car park at around 8·20am ahead of the draw to find 10 other hardy fools idiots anglers assembled for the day ahead. Indeed it was only Mick and granddaughter Rosie who were missing, but a quick phone call confirmed that they were on their way. Just time for a bacon sarnie and a cuppa then.
Now Mark being the organised fellow that he is had put 14 pegs in, all in the main bowl, so with only 13 fishing took one out (peg 14) come draw time, however when he came to take the last peg from the bag it was missing, Somehow peg 9 had escaped, but rather than redraw it went to Mr Organiser. The Bailiff had called pegs 2,3 and 4 as potential winners, so I was a little bit out with peg 13.
We'd been hoping that despite the cold snap the lake wouldn't be iced up. No such luck however, so we agreed to delay the start till everyone had cut out a swim. It wasn't to thick in front of me and I made a start breaking out a swim with my Drennan landing net handle, before strolling round and borrowing Squeaky's ice breaker to finish off with.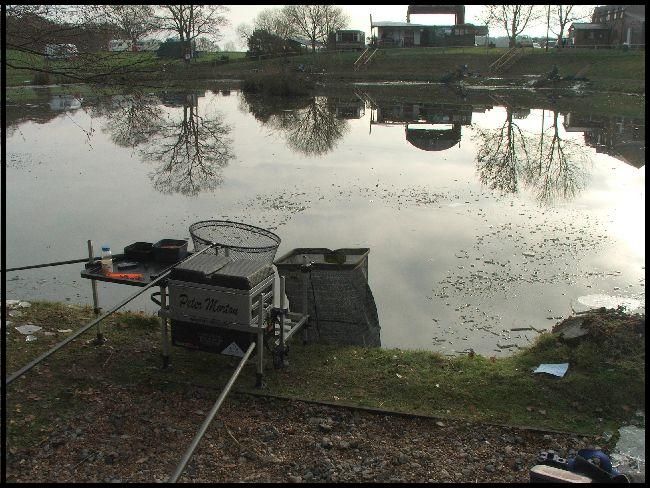 The Fur and Feather is always a light hearted affair and everyone goes home with a prize so I wasn't planning on taking a serious approach, simply one top kit with White Hydro and a single rig that I made up consisting of a 4×12 KC Carpa Tricky on 0·12 Ultima Power Silk finished off with an 18 Guru WMG hook. Bait for today was simply red maggots with a few micros for feed.
With some still setting up I took the opportunity to stroll round and get another cuppa from the tea hut. Inevitably I ended up having a chat with Mick and Rosie, and by the time I made my way back Mark was ready to call the All-In. For company today I had Stuart aka squeaky roller to my right on peg 1 on the island while to my left was Simon Elsey.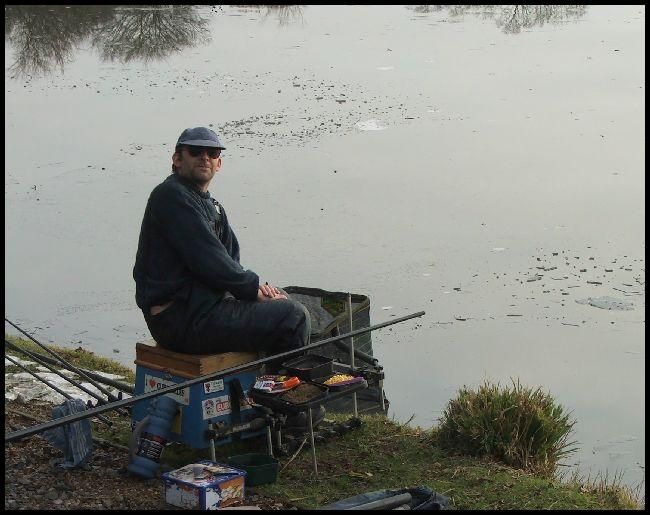 So at 10·40am we were off, double red maggot impaled onto the hook and a pinch of maggot and micros potted in. A shout from across the lake signified that young Rosie had bagged the first fish of the day, no pressure there then as a 10 year old girl took an early lead. A few lift and drops and my float slid gently away resulted in a small roach residing in the keepnet to save the dreaded blank.
It was far from fast and furious, but there was plenty of banter flowing back and forth across the lake. It was soon obvious that the Bailiff had been right about the pegs to be on as they seemed to be producing decent skimmers while all I could find were small Roach…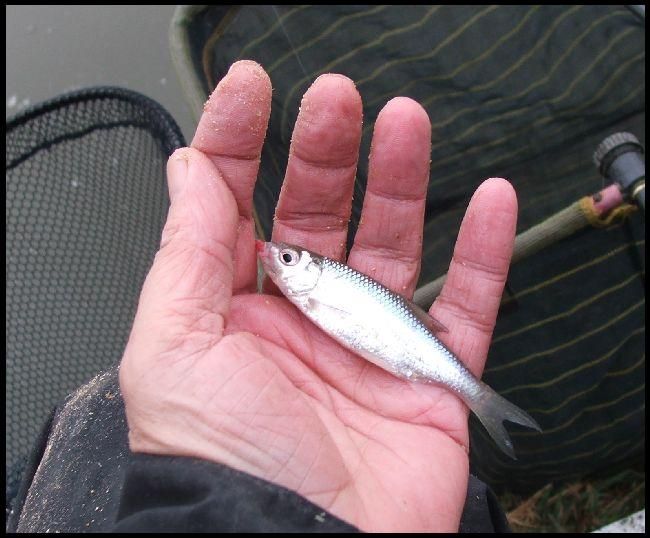 At least I was getting bites though and the fish while small were keeping me busy. By about 1pm I reckoned I might have had 5-6lbs in the net and the lure of a cheeseburger and another hot cuppa from the tea hut proved far too tempting so I set off for a stroll.
Jay was tucked down in the corner on peg 10 and was sliding what looked to be a decent skimmer towards the waiting net……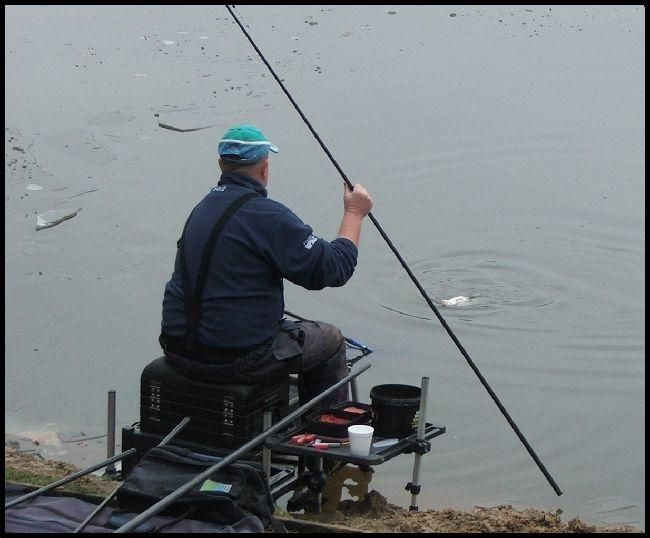 …… he protested that it was his biggest fish of the day, but Jay knows Wylands well and may have just been fibbing.
Mark was alternating between a couple of lines, taking a couple of fish from each before swapping back again……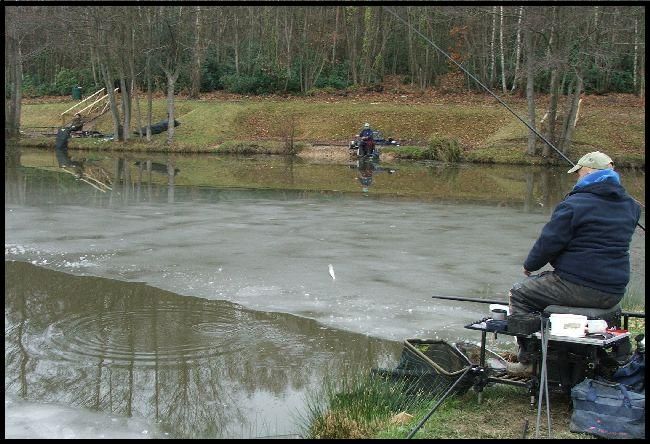 He was having a good battle with Greg on the next peg and it looked as if it would come down to whoever nicked a few bonus fish between them……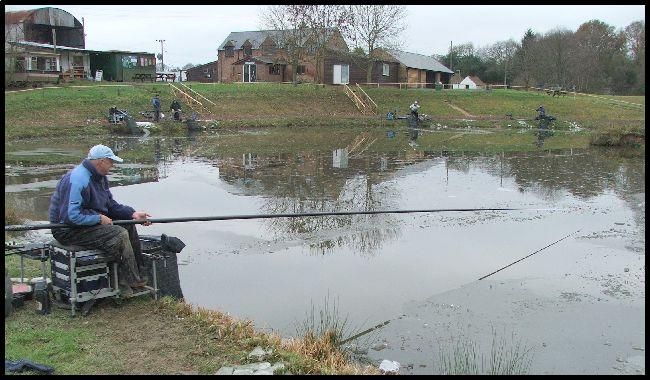 Andy was facing the handicap of not having a pole to fish with, but he was having a good battle with Rosie on the next peg. Cheeseburger consumed I found Mick chatting to Terry(Wily Coyote) who had popped down as he lives locally to see how we were all doing. Mick was regretting not having broken out a larger swim for himself and Rosie but was doing his best to make the most of it.
Jeff, Wayne and Nick were definitely sitting in the pound seats however, and it was obvious that it was just a question of what order they would finish in the top 3……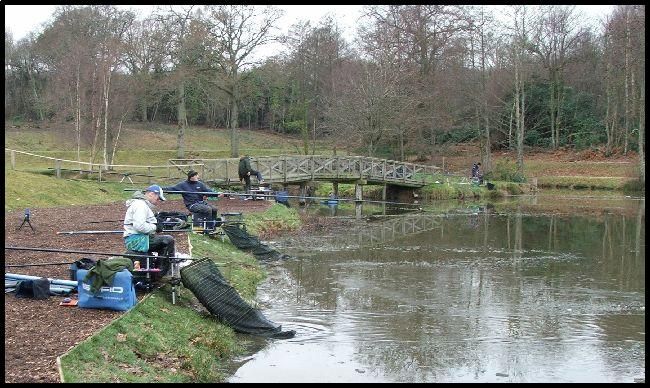 Returning to my swim Simon reported having been seen off by a good fish that he thought was a Carp, while Toby had shown him how it should be done as he'd landed a Carp of around 8lbs, a real bonus on a day like today.
Simon renewed his efforts after this but it obviously wasn't going to be his day as he then latched onto what he described as a decent Bream only to see that come off short of the net.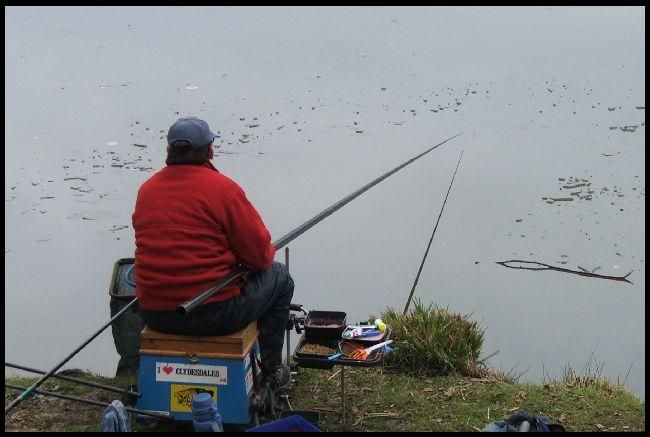 I carried on till the end and managed to pick up a few better examples before Mark called the All-Out at 3pm. We soon had everything packed away and in all honesty it didn't take that long to do the Weigh-In, the results of which are in the table below…
Position

Peg

Angler

Weight

1st
Peg 3
Wayne

(map)

Taylor
42lbs 10ozs
2nd
Peg 4
Jeff Driscoll
33lbs 06ozs
3rd
Peg 2
Nick Gilbert
32lbs 00ozs
4th
Peg 10
Jay Lay
22lbs 02ozs
5th
Peg 8
Greg

(splitshot1)

Andrews
19lbs 06ozs
6th
Peg 9
Mark

(MoleMan)

Hathaway
16lbs 14ozs
7th
Peg 1
Stuart

(squeaky roller)

Wilson
13lbs 02ozs
8th
Peg 11
Toby

(vassago)

Wells
12lbs 00ozs
9th
Peg 13
Peter

(Mugger)

Morton
11lbs 08ozs
10th
Peg 12
Simon Elsey
8lbs 02ozs
11th
Peg 5
Mick

(The Chippy)

Pearson
6lbs 00ozs
12th
Peg 7
Andy

(greentura)

Green
1lb 10ozs
13th
Peg 6
Rosie
1lb 04ozs
All that remained was for Mark to work out the results and collect up the prizes for those assembled……………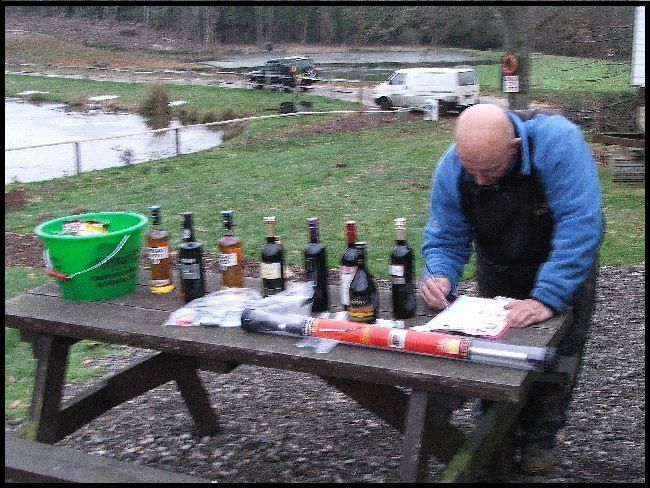 We added a little twist this year and reversed the prize giving so Rosie got first pick, while Wayne received the Winners Trophy and the honour of organising next years Southern Fur & Feather

.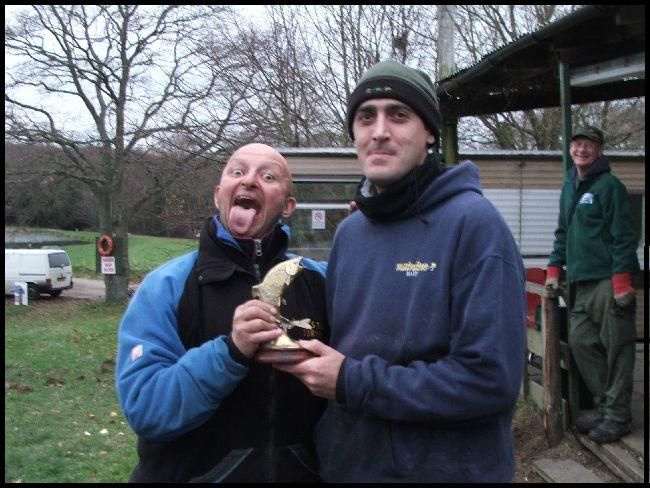 Same again next year please Wayne, I can't think of to many venues that would have produced such good sport in those conditions. Thanks to Mark for organising todays match.
That's probably it for me this year, Roll on 2011.