Mick the Chippy's Knock Up.


Back at the end of July Mick the Chippy placed a post on

Maggotdrowning.com

informing us that he'd booked the whole Match Lake at Hawkhurst for today. Needless to say the whole 20 pegs were soon filled for a day on a venue that has the potential to throw up some huge match weights, With a good Café on sight serving an excellent breakfast and a load of like minded anglers fishing it's a match that I've been looking forward to for a while. However after a couple of days of real cold temperatures I was rather saddened to hear heavy rain beating against the bedroom window as the alarm went off and a quick glance out of the window confirmed it was pouring down. A mug of strong coffee soon had me functioning and having fed the cats and loaded the car it was off to Hawkhurst. It wasn't the best drive down, rain and heavy spray persisting till I got the other side of Tonbridge, where it started to ease off, however by the time I pulled into the fishery car park it had stopped.
Quite a few of the usual suspects were in attendance and a number of '

Golden Nuggets'

had been wagered on todays outcome. Mick had set up a rolling draw so that we could get set up before partaking of breakfast in the fishery Café. Peg 5 was mine for the day about half way up the roadside bank, and I was off to a good start when it was draw out as todays lucky peg, meaning that I just had to catch a fish to receive £10.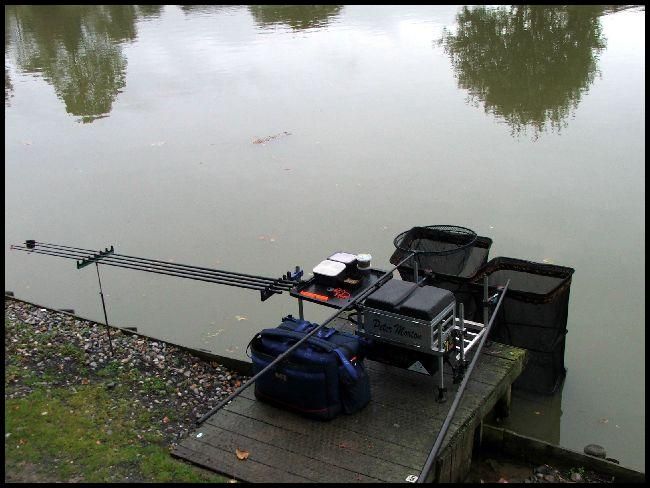 I soon had myself settled in, the pegs are a decent size and allow you plenty of room to get set up. Just 3 top kits to cover the options today. 2 Malman 4×12 Champer's on 0·16 Power Match with size 18 QM1 hooks, the 1st to cover lines at 4mtrs at 10 o'clock and 2 o'clock, and the 2nd to cover 6mtrs straight out in front, while a 0.2 HB Grizzly on 0·16 Power Match with a size 18 QM1 took care of the margin line against the boards. Bait today was my usual selection of GOT Baits soft hookers, expanders and hard pellets while feed would be the fishery 6mm hard pellets.
So with everything ready to go it was time to adjourn to the Café. Lots of banter and mickey taking ensued as always while a Full English ( double sausage, double bacon, double eggs, mushrooms, beans/tomatoes, fried slice + toast and tea or coffee for £5) set things up nicely for the five hours ahead of us.
With everyone fed, watered and back at their pegs Mick called the All-In at 10·30am and the match was underway, and if I'm honest that is where I went wrong. Quite simply I overfed it. It may be a renowned big weight water but I didn't take into account the two hard frosts on Wednesday and Thursday followed by the heavy overnight rain. Rather than feel my way in I stuck 2 big potful's on the 6mtr line and a big potful on both my 4mtr lines. I wasn't the only one however. I finally managed my first fish after 30 minutes, a welcome Common that at least guaranteed me £10 for the lucky peg. Indeed the only person that seemed to be catching with any regularity was Ian Harper next door on peg 4, but even so it was far from fast and furious for him.
Looking around I could see Mick who had placed his faith in 'Mary Q' as he refers to the new Marukyu baits, but he didn't appear to be having his faith rewarded today……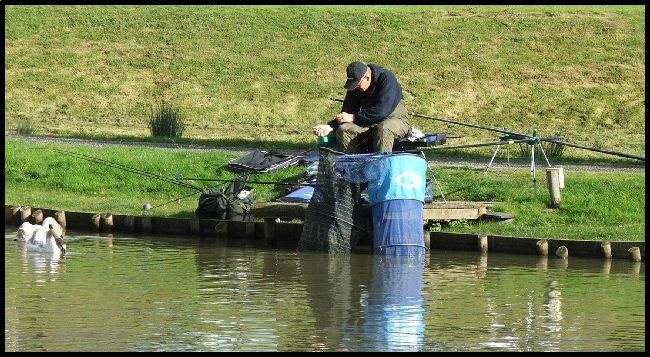 Keith was struggling as well and was already having an early look down his margin line in an attempt to winkle out something ……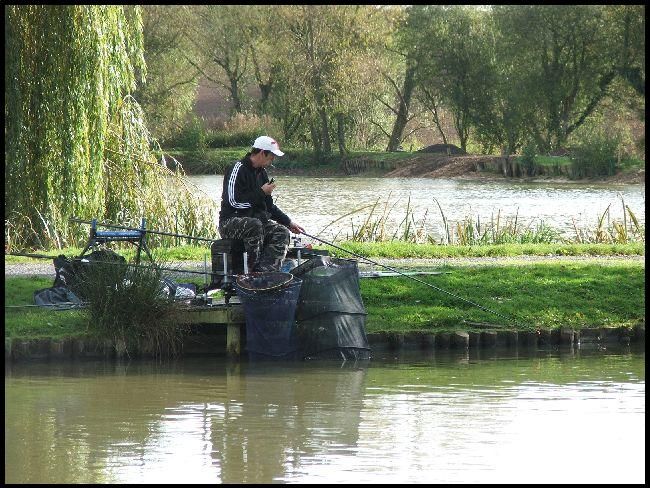 While Bill was suffering from one of those nightmares that we all suffer with on occasion…… unmissable bites that he simply couldn't connect with ……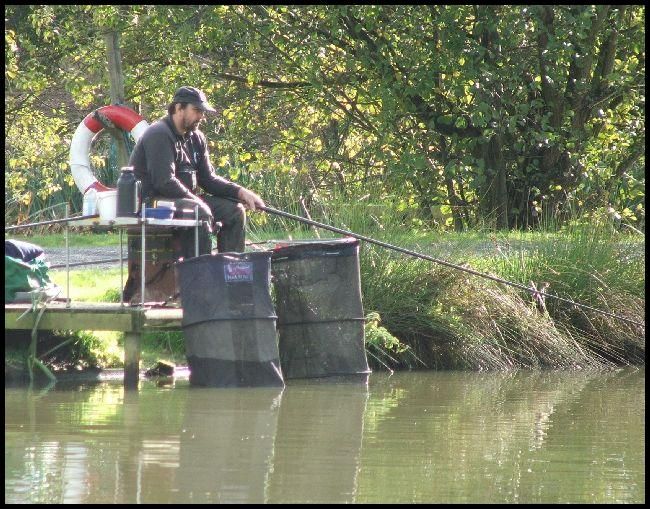 A couple of hours in and I was going nowhere fast with just 3 carp in my net to show for my efforts. I decided that the time was right to have a stroll and try to see what others were doing and maybe give me some inspiration. S Dyball on peg 7 had a few but didn't really appear to be doing much different from what I could see……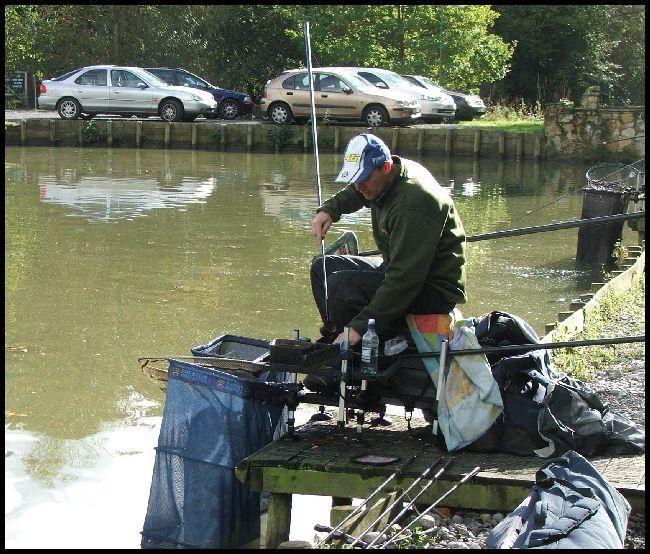 Jeff on peg 8 had around 8 carp to show for his efforts, while Clive on peg 9 was owning up to something like 7 fish in the net, but was into another as I arrived which he soon had safely in the net ……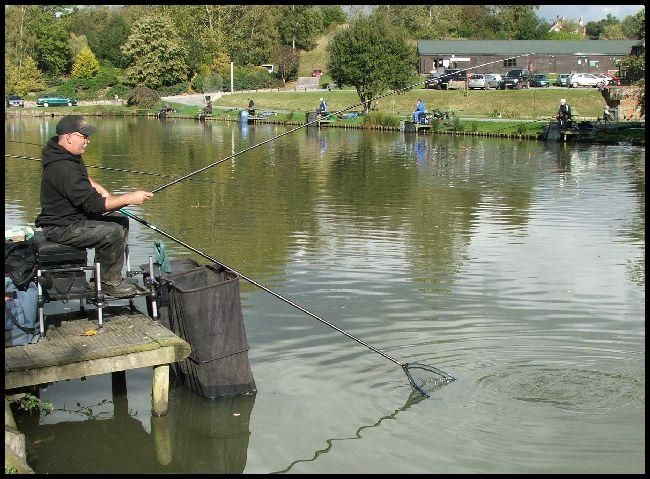 Al was fishing just a little longer than those around him and was slowly starting to put a few fish together, despite having thrown his pole in earlier having got confused about which hand he was feeding with ……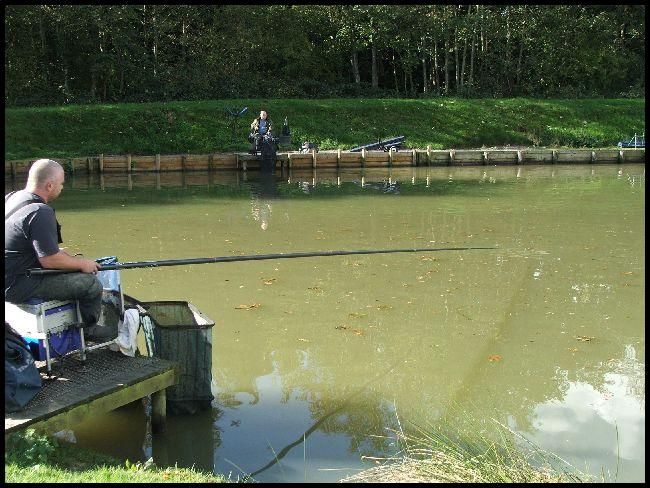 Bill was still having a struggle and appeared to be in danger of parting with a few '

Golden Nuggets'

in the side bet stakes ……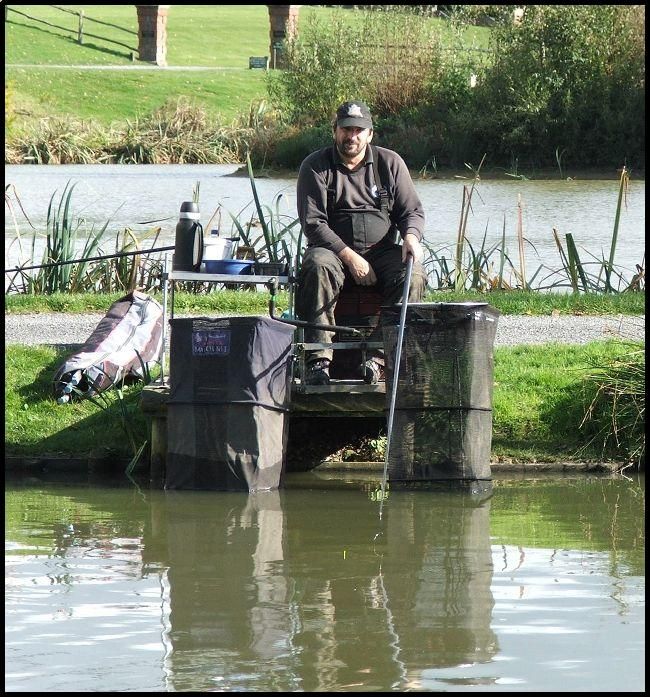 Then there was Nick, and quite surprisingly he was fishing at 13mtrs with a pot on the end of his pole, however he'd not had as much as a bite on pellet and had switched to maggot fished shallow ……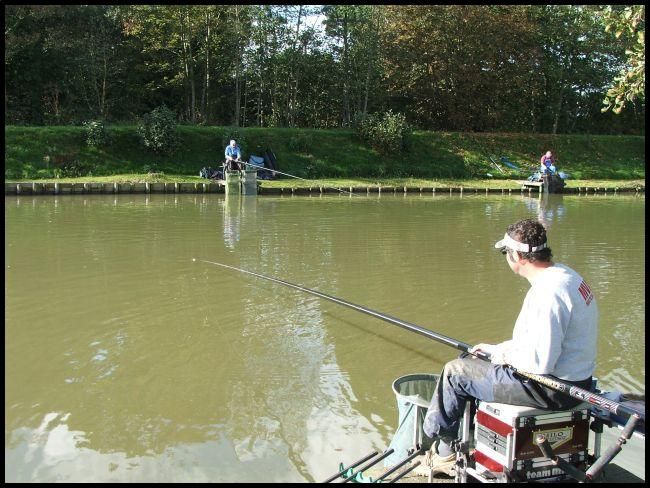 Mick was still struggling to find fish to put in the net, but still had a smile on his face.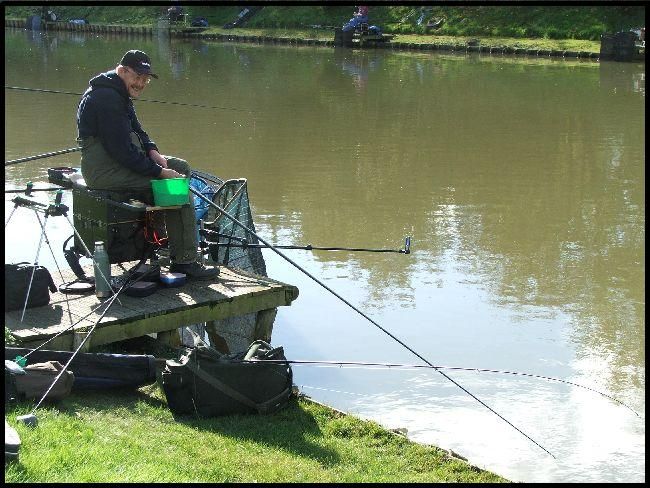 … thanks to the fact that his brother Richard on the next peg was having an even harder time of it than he was ……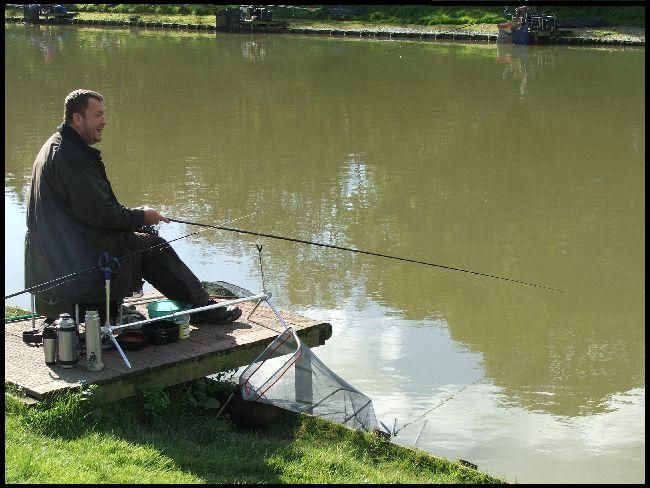 Tony was tucked away on peg 1 and was having a slightly better time of it, but his bites were very finicky and he felt that he was having to wait far to long between them to do any real damage ……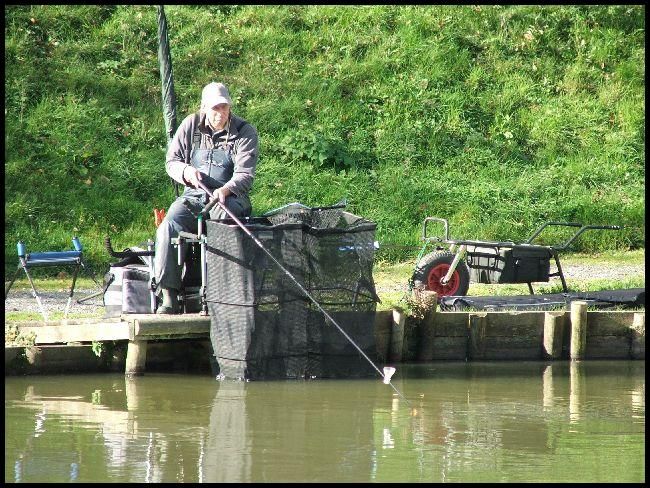 Mick McMillan was on peg 4 on his first time at the fishery, a very good angler, the venue should have suited him down to the ground, but he couldn't match Ian on the next peg ……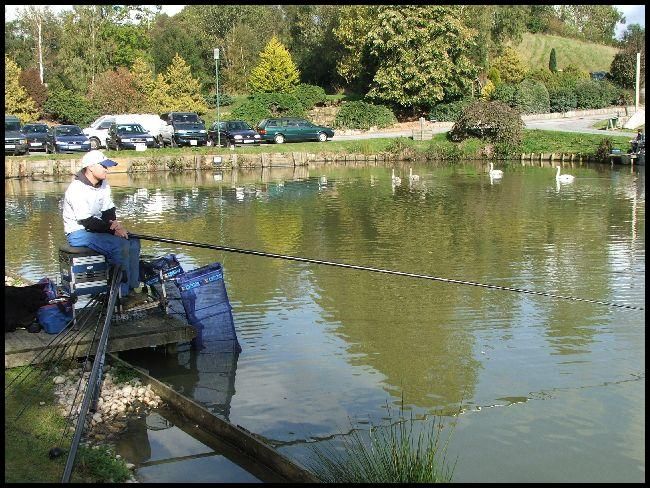 Unfortunately my peg was no better on my return the rest of the match turning into a real grind for me and quite a few of the others. Greg over on peg 17 started to pick up a few toward the end of the match, and Nick's maggot fished shallow had started to produce for him as well. I managed 3 carp in the last half hour meaning that I had 9 carp in the net when Mick called the all out at 3·30pm.
Thankfully the scales didn't take long to arrive. Tony's 36½lbs and Mick McMillan's 41½lbs both being comfortably beaten by Ian Harper's 64¼lbs which would prove to be good enough for the win on the day. Jeff Driscoll saw his 44lbs edged out by Al Loader's 45lbs to give Al 3rd on the day. While Nick Gilbert took 2nd place with 47½lb after his switch to maggot fished shallow produced for him late on.
Thanks to Mick for organising a nice smoothly run day, not his fault that the fishery hadn't produced like it can on the day. At least I got a tenner for the Lucky Peg, and while I had to hand over a

'Golden Nugget'

to Al and Clive, I got 3 back from Mick, Keith and Bill.
| | | | |
| --- | --- | --- | --- |
| | | | |
| 1st | Peg 4 | Ian Harper | |
| 2nd | Peg 14 | Nick Gilbert | |
| 3rd | Peg 11 | Al Loader | |
| 4th= | Peg 8 | Jeff Driscoll | |
| 4th= | Peg 17 | Greg Andrews | |
| 6th | Peg 3 | Mick McMillan | |
| 7th | Peg 7 | S Dyball | |
| 8th | Peg 1 | Tony Roberts | |
| 9th | Peg 9 | Clive Pritchard | |
| 10th | Peg 5 | Peter Morton | |
| 11th | Peg 16 | Andy Bench | |
| 12th | Peg 2 | Graham Franklin | |
| 13th | Peg 10 | John Chambers | |
| 14th | Peg 18 | Mick Pearson | |
| 15th | Peg 19 | Richard Pearson | |
| 16th | Peg 13 | Bill Gibbins | |
| 17th | Peg 12 | Rich | |
| 18th | Peg 15 | Keith Powell | |
| 19th | Peg 20 | Toby Wells | |
| 20th | Peg 6 | Pete Bolt | |