Ospreys Angling Club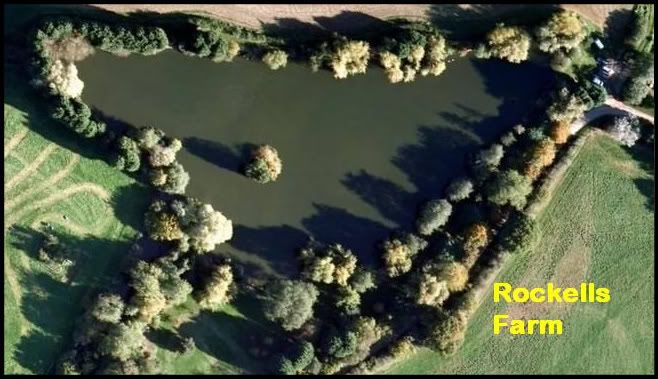 Well I'm finally out for the first time this year, and it's thanks to Neil Riddy who has invited me to fish as a guest on his club match at Rockells Farm. Dave the Fish is joining me as well after Neil phoned me on Friday with news of a late vacancy.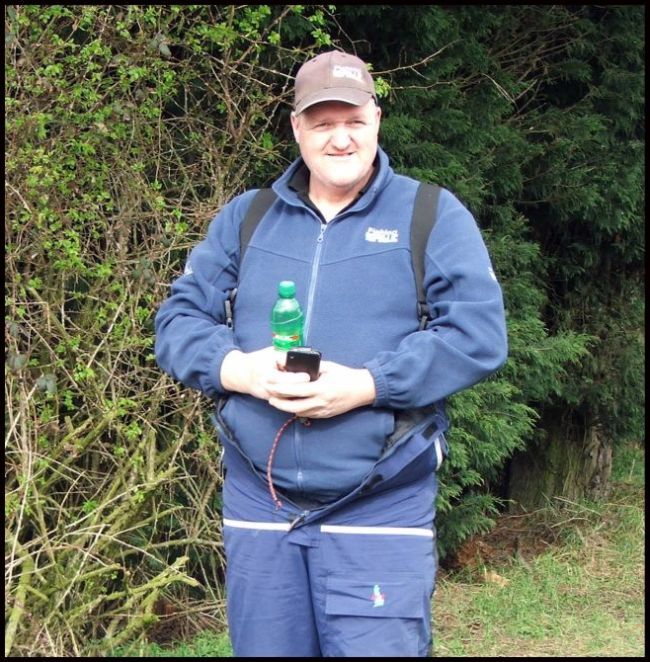 I first met Neil at Rolf's Lake and we've kept in touch since and swapped banter via Facebook, and for his sins he'll be fishing the

Jinx Series

in the coming year. I caught my best ever match weight at Rockells back in 2009 which was 330lbs. It's a bit to early in the year to expect anything like that today, but with a decent draw and favourable conditions a decent days fishing should still be on the cards.
Getting up today to go fishing proved to be a bit of a struggle as I'd got out of the habit after 3 months off, but I managed it. Fed the cats while a couple of cups of coffee and 4 rounds of toast and marmalade took care of my needs. I got to Dave's for 6·45am loaded all my kit into his car and we were off.
A noticeable frost as we left the tunnel into Essex started a few alarm bells ringing in my head, but couldn't dampen the enthusiasm, especially as I'd discovered a packet of lemon flavoured Jammy Dodgers in Dave's glove box, and we made good time, pulling into the car park just after 8am.
The lake looked spot on as always, though there wasn't as much colour in the water as I would have liked and very little evidence of fish moving. Dave and I both notice how cold the wind was as well, so it could turn into a bit of a grueller. Soon the car park filled up and with 24 of us in attendance for the day, Neil had the draw under way. I came away from the draw with peg 20 and found out that it was at the top end on the right hand side. It's the left hand one of a double peg that we normally leave out on our club matches, normally leaving todays peg 21 in as our peg 4. Peg 21 can fish a fair way down the margin, while the bush only really allows a top 3. Should still be good for a few fish though.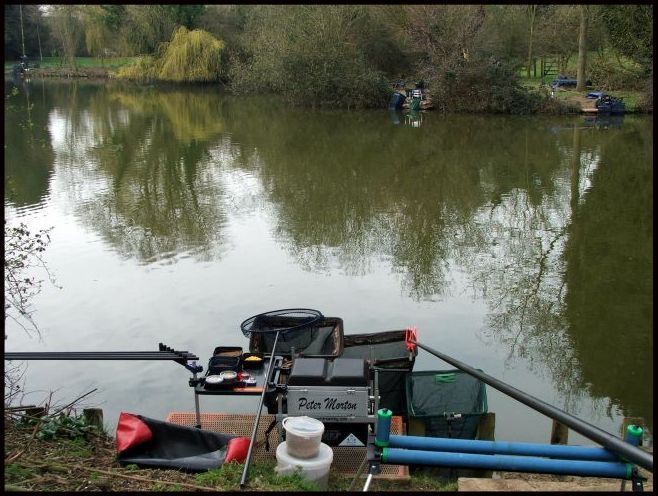 For company today I've got Brian Ritchie on 21, while Neil was to my left on peg 19 and Dave was further down on peg 17.
Setting up took a bit longer than usual for no reason other than I was a bit rusty and it took a while to get back into the swing of things. I was going to keep things simple today, and just set 3 rigs up, all Sackup Floats CX1 4×12 pencils on 0·16 Ultima Power Match with size 16 Guru MWG's at the business end. One set at around a couple of feet which was all the depth I could find out front and chose a line at 7mtrs to fish, while the other 2 were set at 15inches for the margins. Bait was taken care of by pellets and corn today .

At 10·30 Neil sounded the All-In and I shipped a pot of mixed pellet and corn out to 7mtrs and fed the bush by hand. Out to the 7mtr line with a grain of sweetcorn but 10 minutes in and despite lifting, dropping and dragging the bait I hadn't had a touch. Brian had a couple of lightning fast bites that he'd missed. A change to pellet produced the smallest of dinks which I managed to connect with, unfortunately it was from as small a carp as I've ever caught here, normally they gravitate toward Clive's swim, but with him absent they obviously thought that I would do !!!! Anyway it was in the net, 1st fish of the year and all that, just a shame it wasn't closer to 4lbs than the 4ozs it probably weighed. Another soon followed, the twin of the 1st then a Roach before the line totally dried up.
Brian had managed a solitary small Carp in the meantime and he to was struggling for a bite. In fact apart from a couple of swims on the far side it seemed that most of us were struggling.

After re-feeding at 7 mtrs I was resigned to an early look at the margin by the bush, earlier than I wanted to, but I felt that I didn't have much of an option. Bites were finicky, the merest dink and if you didn't hit it that was your lot, and I could only get those on a 6mm banded pellet. The fish just weren't there in any numbers though and those that were, were in the 4-8oz bracket. It was just a question of taking the odd one or two and then a 10 minute lull before another would have a go. Brian was fishing his margin by now as well and although he wasn't catching the numbers that I was, his fish were at least in the 2-3lb bracket.

In general though the lake was showing it's harder side today. Ricky Green across on peg 22 was catching steadily as was Mick Whitmore on peg 1, but most were having to work hard for their fish. I took a quick stroll down to see how Neil and Dave were doing. Neil had a few on the bomb and Dave had managed to put a few better samples together, but it seemed that it was Tony Taylor on peg 18 between them who just had the edge on their little tussle……
I wish I could say that it got better as the match progressed, but I would be lying if I did, I did manage a couple of bonus fish, but they were only around a couple of pounds each. Neil called the All-Out at 3·30pm and I knew that Brian had me well beaten on the next peg. I hoped that I might have 50lbs to show for my efforts, but the scales would soon tell. and when they arrived Brian's 76¼lbs comfortably eclipsed my 52½lbs.

Back at the car park for the results and it was indeed Mick Whitmore on peg 1 whose 116½lbs had taken the honours on the day, with Ricky Green on peg 22 managing 98lbs for second ahead of Chris Lovelock.

All in all though it had been good just to get back out on the bank and blow the cobwebs away. Thanks to Neil and the members of Ospreys AC for the invite and making us feel welcome, and Thanks to Dave for being driver for the day and his Lemon Jammy Dodgers.
| | | | |
| --- | --- | --- | --- |
| Position | Peg | Angler | Weight |
| 1st | Peg 1 | Mick Whitmore | 116lbs 08ozs |
| 2nd | Peg 22 | Ricky Green | 98lbs 00ozs |
| 3rd | Peg 7 | Chris Lovelock | 92lbs 02ozs |
| 4th | Peg 8 | Tony Wynnick | 87lbs 04ozs |
| 5th | Peg 3 | Bill Lovelock | 78lbs 00ozs |
| 6th | Peg 21 | Brian Ritchie | 76lbs 04ozs |
| 7th | Peg 16 | Andy Waterhouse | 75lbs 08ozs |
| 8th | Peg15 | Kiran Chavda | 72lbs 08ozs |
| 9th | Peg 6 | Adam Griffiths | 67lbs 00ozs |
| 10th | Peg 18 | Tony Taylor | 66lbs 02ozs |
| 11th | Peg 17 | Dave Collier | 62lbs 08ozs |
| 12th | Peg 20 | Peter Morton | 52lbs 08ozs |
| 13th | Peg 24 | Richard Doolan | 51lbs 08ozs |
| 14th | Peg 12 | Neil Fenner | 46lbs 12ozs |
| 15th | Peg 9 | Ian Millin | 41lbs 00ozs |
| 16th | Peg 19 | Neil Riddy | 40lbs 00ozs |
| 17th= | Peg 2 | Julie Briscoe | 27lbs 00ozs |
| 17th= | Peg 13 | Russell Hill | 27lbs 00ozs |
| 19th | Peg 5 | Mark Barratt | 26lbs 04ozs |
| 20th | Peg 23 | Owen Glover | 24lbs 00ozs |
| 21st | Peg 4 | Mark Gilbert | 22lbs 08ozs |
| 22nd | Peg 11 | Mark Wilson | 20lbs 08ozs |
| 23rd | Peg 14 | Steve Probert | 20lbs 00ozs |
| 24th | Peg 10 | Barry Hatch | |