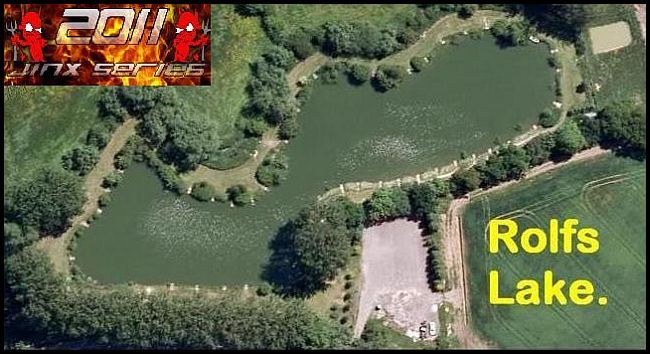 It's that time of year again. Yes that group of angling nutters that make up The Jinx Squad are back once more to fish The Jinx Series of matches at Rolfs Lake.
Clive, Malc(

The Jinx

), Pete(Mugger), Simon(simps), Tony(spamwham), Terry(Wily Coyote), Steve.
Ady(slim shady), Paul, Nick(monkey), Nick(neo1), Mitch, Fred(milo), Matt.
Kevin, Jon(hatchye), Geoff(cap'n birdseye), Alex(bagger j), Dave(The Fish), Dave.
Dai, Marcus(budgie), Neil, Ant, Al, Dave(webbo), Gem(

The Minx

)
My usual alarm woke me (3 cats wanting to be fed) and a lovely sunny morning greeted me as I gazed through the curtains. However this was a Jinx Match day so I wasn't going to be fooled into dressing in just shorts and tee shirt despite the lovely weather we've been having. With the cats fed and a couple of cups of coffee consumed I got the car loaded along with a fleece and my waterproofs. All set and as usual first stop was my favourite café in Battersea (The Jimmy Griddle) for a "Full English". Suitably fortified it was back into the car for what was an uneventful trip to the lake, however with about 4 miles to go the sunshine vanished to be replaced by grey clouds as far as the eye could see…………….Malc (

The Jinx

) was obviously there before me.

Pulling into the car park my thoughts were confirmed as who should I see first but Malc and Liam (Jinx Jnr). Climbing out of the car it had already turned noticeably cooler, a good job I'd brought that fleece. Dave Moore appeared along with Simon and it was soon clear that they'd fished the Open Match the night before. Results were mixed, and while some feel it primes the lake to fish well the next day, I always feel that it can make it fish harder especially when there are 27 fishing. Soon the rest of The Jinx Squad started to arrive along with a few spots of rain, but I managed to get a cup of coffee and started to catch up with people while the banter flowed as it does on these occasions……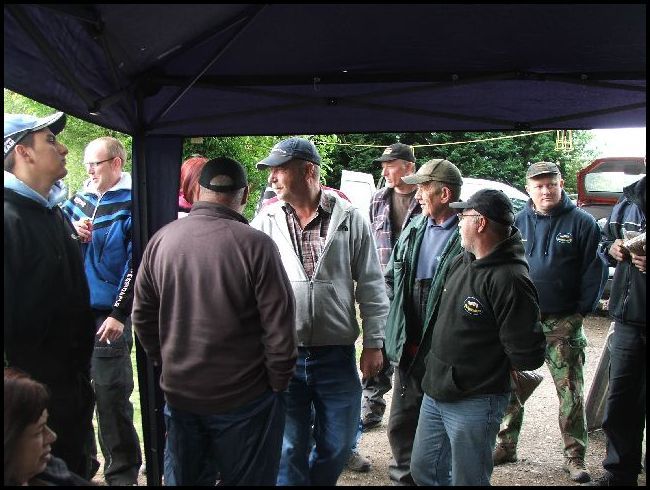 Malc almost got ahead of himself, ringing the bell at 11am for the draw, however we soon told him to hold his horses as the draw wasn't due till 11·30am.
First things though and Gem (

The Minx

) had to draw a peg number to decide who would have the honour of wearing

The Minx's

forfeit, a

Pink Elephant Hat

for this years Series, and Peg 40 was the one.

Onto the draw and new Jinx Squad member Neil soon found himself in possession of the

Pink Elephant

for the day……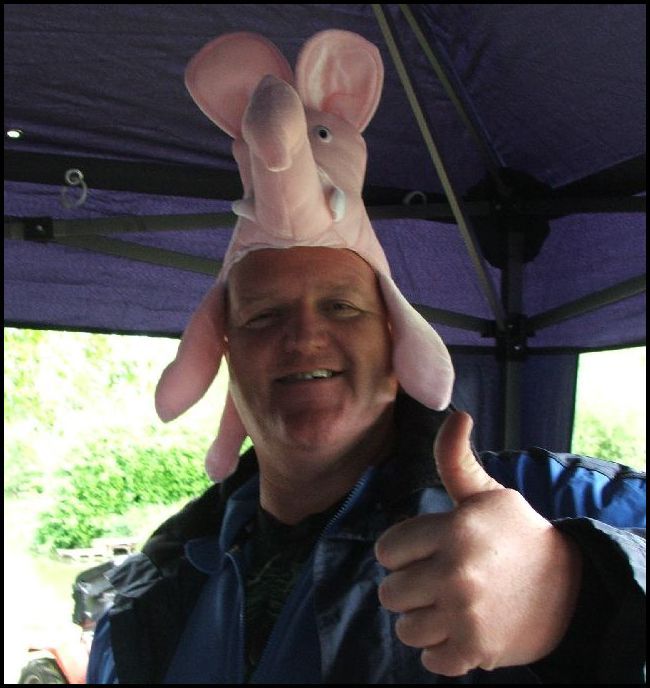 ……after this the others soon dived in, and I came away holding Peg 20, now I'm not saying it's a bad draw, but it hardly ever gets used in matches, and there hadn't been a weight recorded from it this year !! On the plus side, just weighing something in would mean that I would become Peg 20′s reigning Peg King.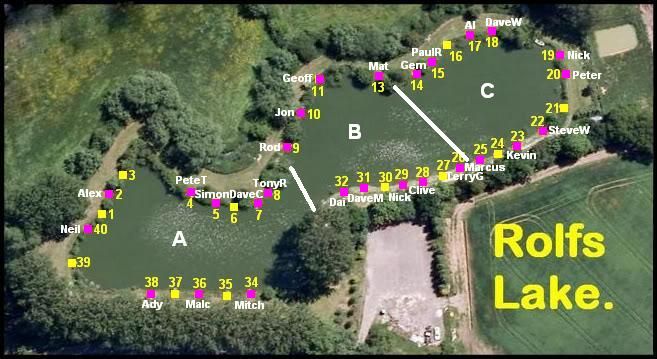 Making my way round with my gear though that was the only positive I could come up with about my draw. Settling my kit into my peg I could see that Dave (Mr Maggotdrowning) had drawn cock on with Peg 18 and Al next to him on 17……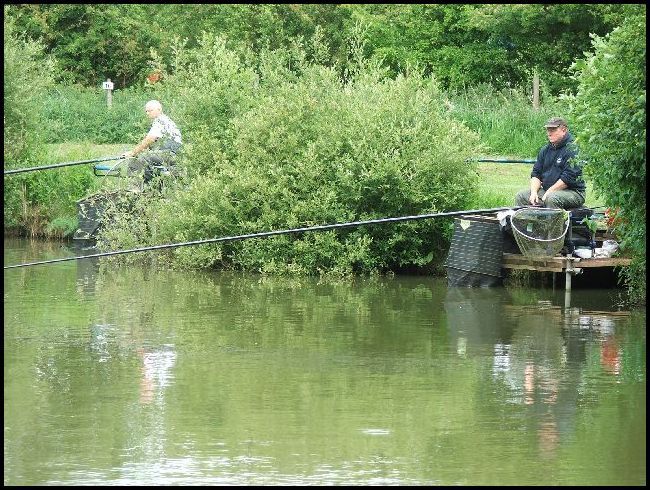 Nick was to my immediate right on Peg 19, while to my left Steve was on peg 22 and Kevin was on peg 23 with Jean, so at least I should be OK for a cup of coffee or two. Simon strolled round taking some photos for the

Rolfs Blog

and his picture captured my feeling on my draw……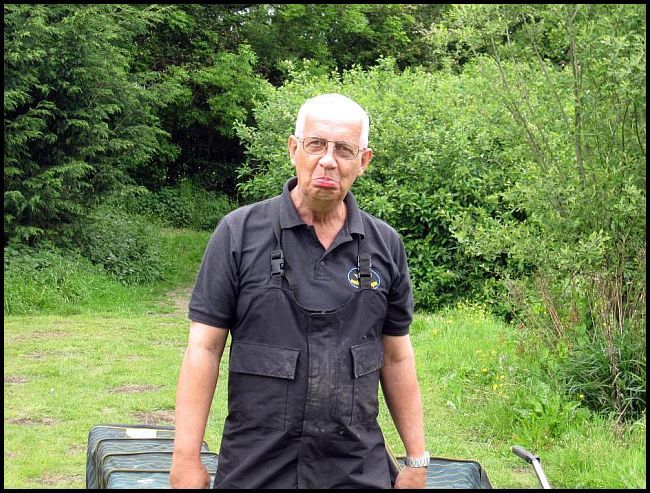 Paul Jay offered a bit of advise on lines to fish and with plenty of time I opted to tie up some new rigs. Two of them were MW 0·6 Diamonds on 0·20 Ultima Power Match finished off with size 14 Guru MWG's. These would be for 2 swims, one at 10 o'clock and the other at 12 o'clock at around 8mtrs where I had between 3½ and 4 feet of water. A third was a NG 0·3 XT Sampson margin again on 0·20 Ultima Power Match finished off with size 12 Guru QM1 to fish by the bush to my left in around 2½ft of water. Bait was taken care of by 6 and 8mm fishery pellets and a selection of various GOT Baits soft hookers.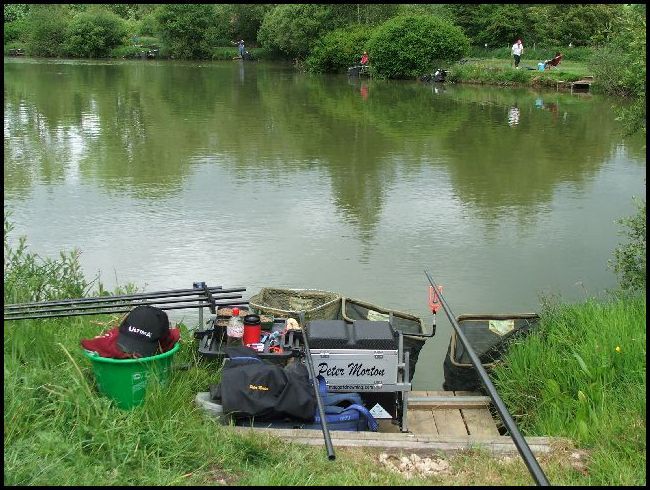 1pm and the bell sounds the All-In, a pot of pellet onto each line and out with a banded 8mm straight in front. Nick was quickly off the mark with a carp and Steve had a skimmer……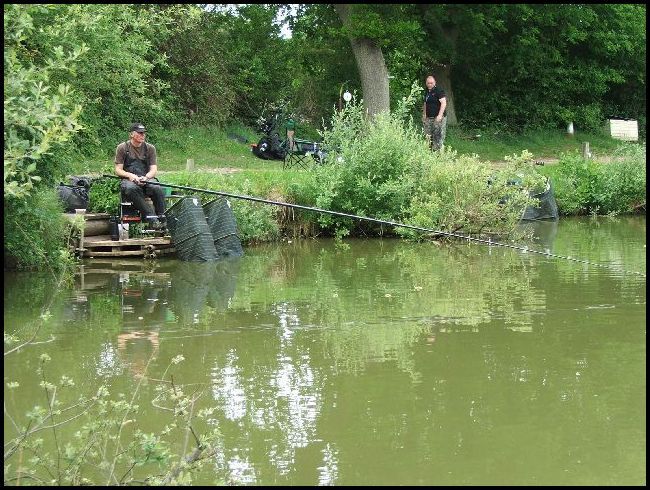 …… not a touch for me though. Time marched on, Jean arrived with a cup of coffee as others were starting to catch. Looking over toward Peg 14 there was an ominous site, lots of orange elastic streaming from Gems pole, Simon fished this peg last night and had just under a 'Ton' from it, so it had been well primed……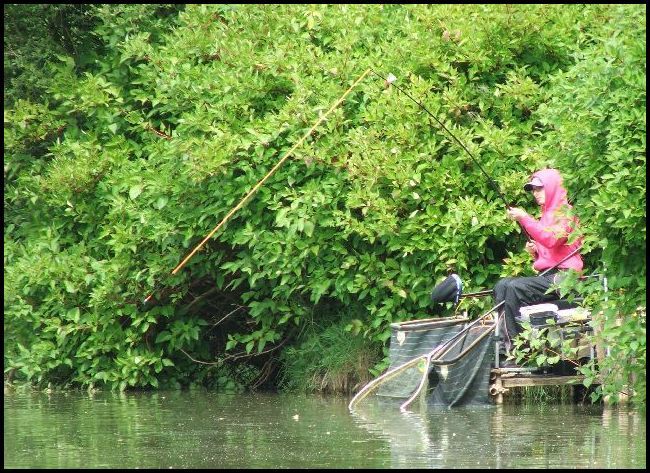 ……………She soon had it in the net and her shout of "

YEEEEEEEESSSSSSSSSS

" sent plenty of shudders round the bank.

Paul was on Peg 15 and fishing the feeder across to the bar and it looked like it was starting to produce the goods for him……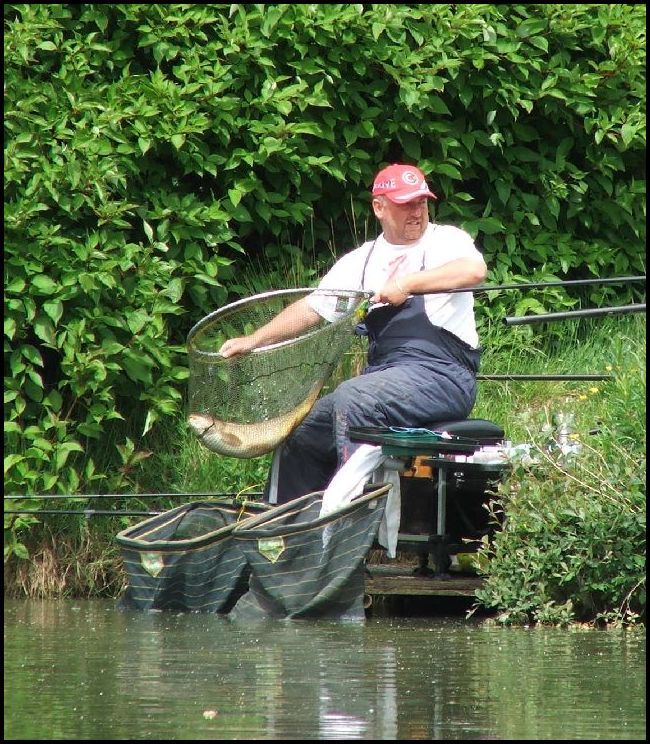 An hour and a half in and I still hadn't had a bite, Steve suffered with a run of 7 foul hookers, Nick had another one, in fact everyone seemed to have caught something apart from me. Gem had another couple and I could see Dai in the distance on Peg 32 putting a few together as well……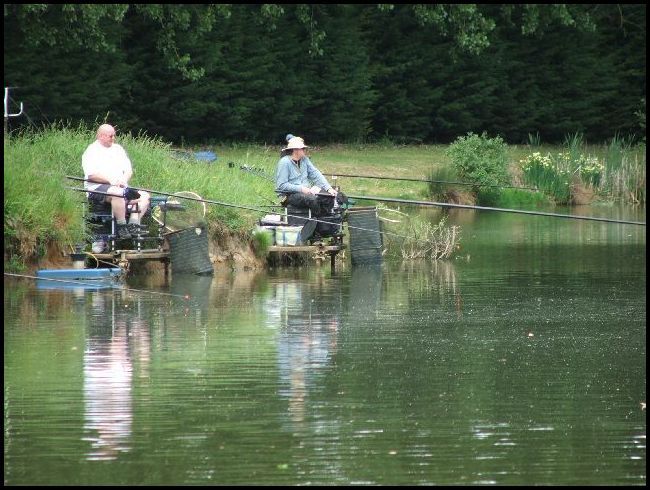 Time to re-feed and a quick stroll with the camera. Down to the Little Lake and it was obvious that very few were catching well. Malc was down the margins trying hard to tempt a fish on what he would call a "Sulky Saturday……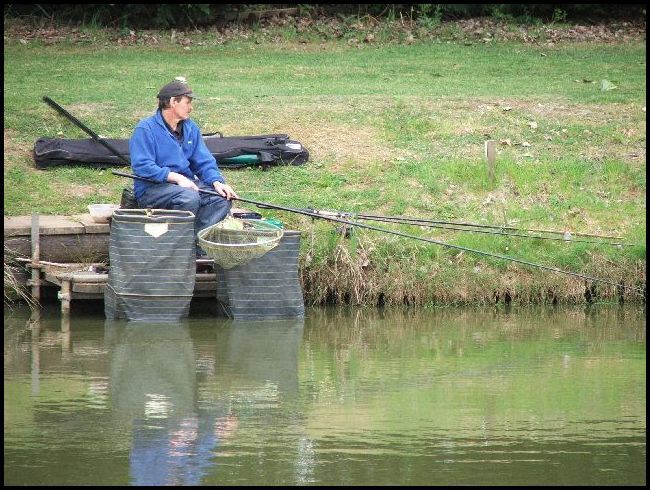 while Ady looked as if he was already ringing the changes in an attempt to find out just what they wanted……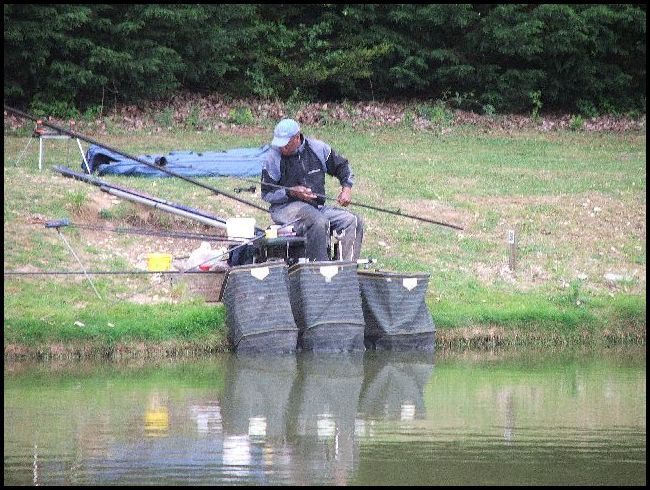 Simon however was into a fish which was giving a good account of itself and refusing to get it's head up……
Dave the Fish and Tony (spamwham) were up on pegs 7 & 8 and while they were managing a few fish between them, neither was really having the day they'd hoped for when they drew those pegs……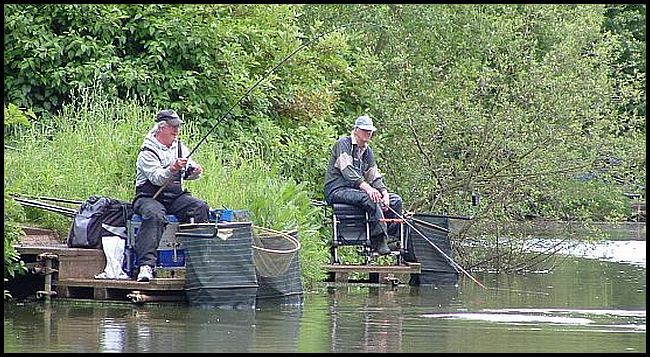 Dave did manage to get himself a decent Chub though which Geoff caught on camera, that rolled the scales round to 4lbs when he weighed it ……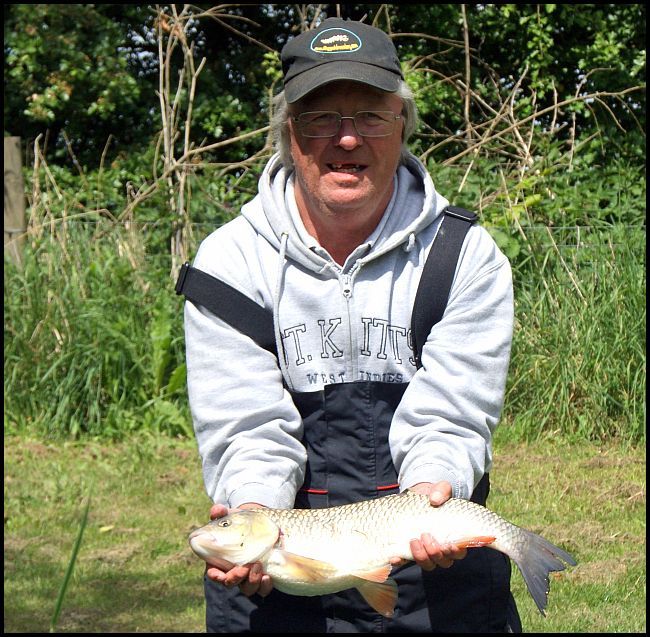 Back at my peg and in an attempt to get a bite I decided to try something different and shallowed my margin rig to a couple of feet and fished it out front pinging half a dozen pellets every 30 seconds. After 30 minutes I was on the point of giving that up when the float vanished !!! A spirited fight saw me playing a fish with kid gloves as I was determined not to lose it having waited for so long, and it was a very relieved Mugger who slipped the net under a Common that weighed 11lbs after an anxious 5 minutes. Back out and almost straight away another bite resulted in another Common of 9lbs. I'd like to say that I didn't look back after that, but unfortunately that was it apart from 1 small roach that I bumped on the strike.

Dave had set up his Feeder-less Feeder (a pellet cone to anyone else) with an hour and a half to go and it produced a few carp for him right up to the all out. Al had nicked a carp on the pellet wag but had to pack up early as he'd promised to be home in time to go out for a meal for his daughters birthday. In fact he was walking past my peg with about 5 minutes of the match remaining when Nick hooked into a fish and to my surprise my float buried as well. Carp no3 thankfully found it's way to the net and weighed 9¼lbs and that was it as the All-Out was called before I could ship back out.

With the kit back at the car park it was time for the Weigh-In with Mitch setting the early mark with a section winning 67½lbs. Simon had included a 19¼lb Common in his 43½lbs……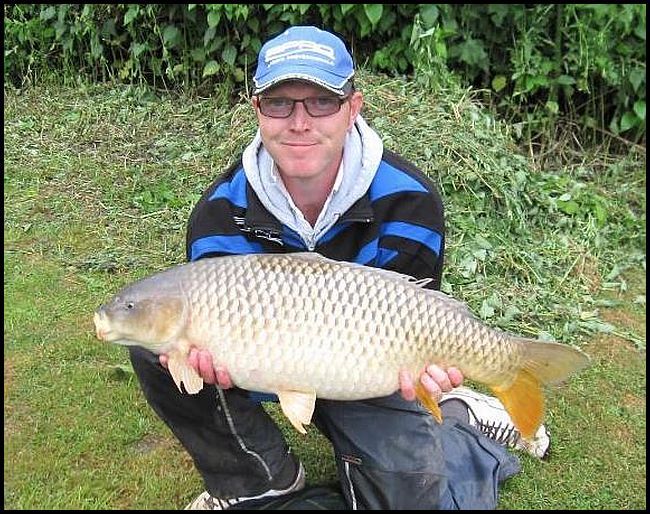 While Tony's 58lbs from peg 8 was good enough for 2nd in section. Jon had a new PB Mirror of 18¾lbs in his 40¼lbs ……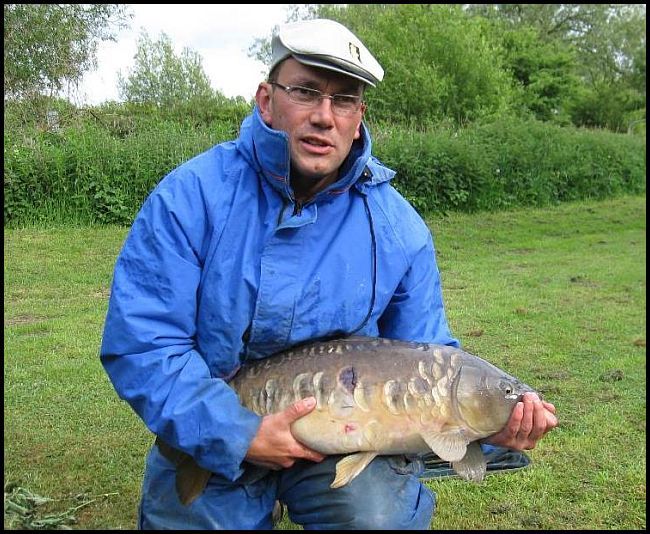 …… and Mat had a creditable 65¾lbs from Peg 13. Gem set

The Minx Mark

with 67½lbs to tie with Mitch. Paul's peg had produced the goods with a Section winning 96¾lbs and 3rd overall on the day. My rather inglorious 29¼lbs at least meant that I'm the new Peg King on Peg 20. Steve managed a hard earned 69¼lbs but it was left to Clive on Peg 28 to record the first 'Ton' of the day with 107½lbs, but that would only be good enough for 2nd as Dai on Peg 32 produced a match winning 122½lbs to take the honours on the day.

So The Jinx Series is off and running once more, hopefully sport will pick up a bit as the Series progresses. 21 victims for

The Minx

today. Who gets the

PINK ELEPHANT

on the next match? She's going to keep us waiting till the next match and think about it while she suns herself on holiday in Portugal.
1st

Peg 32

Dai Thomas

122lbs 08ozs

2nd

Peg 28

Clive Pritchard

107lbs 08ozs

3rd

Peg 15

Paul Roberts

96lbs 12ozs

4th

Peg 22

Steve Wilson

69lbs 04ozs

5th=

Peg 14.

Gem(The Minx)Doyle

67lbs 08ozs

5th=

Peg 34

Mitch Auger

67lbs 08ozs

7th

Peg 13

Mat Edwards

65lbs 12ozs

8th

Peg 8

Tony Roberts

58lbs 00ozs

9th

Peg 4

Pete Tapp Guest

50lbs 08ozs

10th

Peg 25

Marcus Burgess

49lbs 00ozs

11th

Peg 7

Dave Collier

48lbs 12ozs

12th

Peg 18

Dave Webster

45lbs 08ozs

13th

Peg 5

Simon Mound

43lbs 08ozs

14th

Peg 10

Jon Hatch

40lbs 04ozs

15th

Peg 2

Alex Clarke

38lbs 08ozs

16th

Peg 40

Neil Riddy

35lbs 08ozs

17th

Peg 38

Ady Williams

31lbs 04ozs

18th

Peg 26

Terry Goff

30lbs 00ozs

19th

Peg 19

Nick Williams

29lbs 12ozs

20th

Peg 20

Peter Morton

29lbs 04ozs

21st

Peg 23

Kevin Loveland

27lbs 00ozs

22nd

Peg 9

Rod Rose

Guest

24lbs 00ozs

23rd

Peg 17

Al Loader

20lbs 08ozs

24th=

Peg 29

Nick Watkins-Price

17lbs 00ozs

24th=

Peg 31

Dave Moore

17lbs 00ozs

26th

Peg 36

Malc(The Jinx)Doyle

12lbs 00ozs

27th

Peg 11

Geoff Palmer

10lbs 08ozs
Names in

Pink

are those that were

"MINXED"
Section A
1st

Peg 34

Mitch Auger

67lbs 08ozs

2nd

Peg 8

Tony Roberts

58lbs 00ozs

3rd

Peg 4

Pete Tapp Guest

50lbs 08ozs

4th

Peg 7

Dave Collier

48lbs 12ozs

5th

Peg 5

Simon Mound

43lbs 08ozs

6th

Peg 2

Alex Clarke

38lbs 08ozs

7th

Peg 40

Neil Riddy

35lbs 08ozs

8th

Peg 38

Ady Williams

31lbs 04ozs

9th

Peg 36

Malc(

The Jinx

)

Doyle

12lbs 00ozs
Section B
| | | | | |
| --- | --- | --- | --- | --- |
| | | | | |
| 1st | Peg 32 | Dai Thomas | 122lbs 08ozs | |
| 2nd | Peg 28 | Clive Pritchard | 107lbs 08ozs | |
| 3rd | Peg 13 | Mat Edwards | 65lbs 12ozs | |
| 4th | Peg 10 | Jon Hatch | 40lbs 04ozs | |
| 5th | Peg 26 | Terry Goff | 30lbs 00ozs | |
| 6th | Peg 9 | Rod Rose Guest | 24lbs 00ozs | |
| 7th= | Peg 29 | Nick Watkins-Price | 17lbs 00ozs | |
| 7th= | Peg 31 | Dave Moore | 17lbs 00ozs | |
| 9th | Peg 11 | Geoff Palmer | 10lbs 08ozs | |
1st

Peg 15

Paul Roberts

96lbs 12ozs

2nd

Peg 22

Steve Wilson

69lbs 04ozs

3rd

Peg 14.

Gem(

The Minx

)

Doyle

67lbs 08ozs

4th

Peg 25

Marcus Burgess

49lbs 00ozs

5th

Peg 18

Dave Webster

45lbs 08ozs

6th

Peg 19

Nick Williams

29lbs 12ozs

7th

Peg 20

Peter Morton

29lbs 04ozs

8th

Peg 23

Kevin Loveland

27lbs 00ozs

9th

Peg 17

Al Loader

20lbs 08ozs