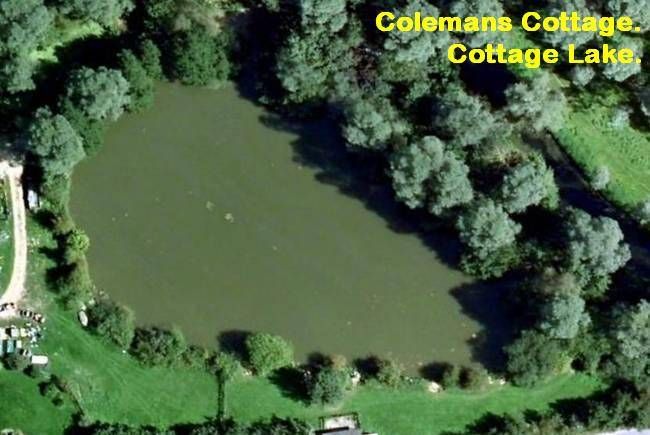 I'm off to Colemans Cottage Fishery in Essex today at the invitation of Kevin Loveland for a days fishing on Cottage Lake to celebrate his

50th Birthday

. It will take the form of a small knock-up match, but the emphasis will be very firmly on enjoying the day and will no doubt finish off with tea and cakes in the clubhouse.

The alarm going off and a nudge in the ribs from Maria saw me rising just after 5·30am, our cats think an alarm clock ringing is a dinner bell, so having washed and dressed they were fed, while a large cup of coffee took care of my needs before loading up the car and setting off. A nice smooth trip down saw me pulling into the car park around 7·45am. First things first so it was straight into the clubhouse where I bumped into fellow Maggotdrowner Ron B who was here for a match with his club. One of Colemans excellent breakfasts was soon dispatched and the banter started to flow as todays participants assembled for the day ahead.

Keith, Terry and Pete set off to peg the lake while Dave collected the pools for the day, our only outlay as Kevin had kindly paid for the lake today. With the lads back from pegging out it was time for the draw. Peg 7 proved to be mine for today so it was off to the car park to collect our kit and make our way over to the lake. As I made my way round to the riverside bank it was soon obvious that we were in for some fun today as some joker had placed my peg number on a culvert with half a forest in front of it, realising this was obviously a mistake I settled for the perfectly fishable peg a couple of paces further on. For company today I had Terry to my left on peg 6 and Colin to my right on peg 8.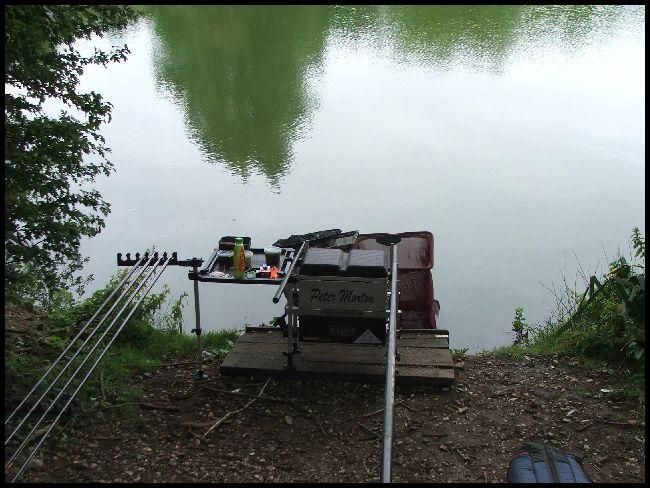 Settling into the peg I recognised it as the one that Colin had won from when we fished the lake last October, while I could see Pete Thompson settling into the peg that I'd fished. Thankfully although the platform resembled a ski slope the adjustable legs on my box and footplate soon sorted that out. I had trees overhanging the water to the left and right which were the two obvious lines to fish so set up a couple of Malman 4×12 Adam's on 0·20 Power Match with size 14 QM1 hooks to fish at 5mtrs to the trees on the deck and a MW HC margin again on 0·20 with size 14 Guru QM1 for the left hand margin, though it seemed to be a bit of a snag pit and might prove awkward to get a fish out of it. Bait for today was simply a selection of GOT Baits soft hookers and 6mm hard pellets while feed would just be a mix of 4 & 6mm hard pellets. Keith put in an appearance prior to the off snapping a few photos for his blog and caught me setting up a top kit……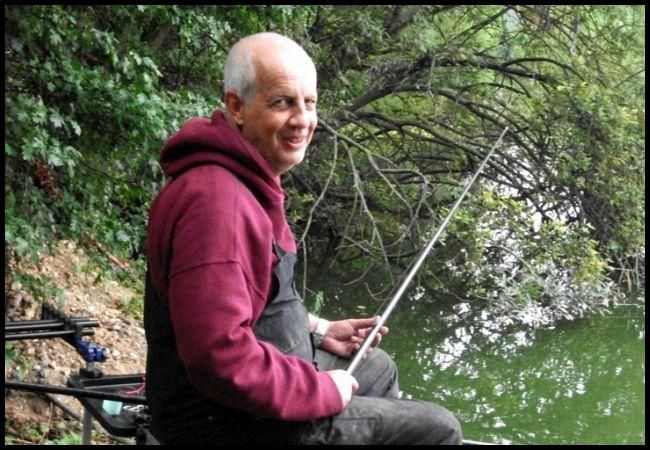 So 10am and Dave blew the whistle for the All-In and I fed a couple of pots of mixed pellets into both swims and shipped a soft hooker out to the left hand swim. I was going to concentrate on this line as I had it to myself, and Colin would be fishing to the other side of the right hand one. A couple of lightning fast bites followed, both of which I missed, putting them down to silvers.
Rather than keep shipping back and forth I changed to a banded 6mm hard pellet, but before I could ship back out I could see Pete playing his first fish of the day ……
… obviously a Carp it was giving a good account of itself, but Pete soon had it under control and safely in the net. So out with my rig with a pouch of pellet over the top and after lifting and dropping the rig a few times the float buried and a quick lift resulted in the elastic coming out, not a big fish but a small Mirror of around 2lbs that was soon in the net to getting me off the mark. Jean put in an appearance with a welcome cup of coffee and all was right with the world.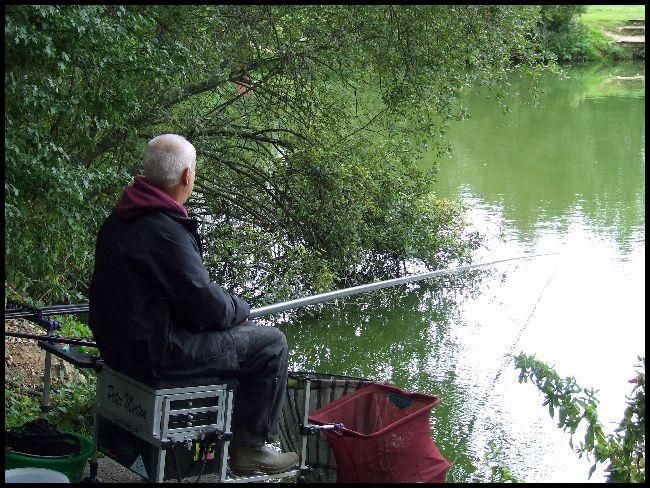 A further 6 carp followed in the first hour which as far as I could make out was as good as anyone else. I'd seen plenty of elastic coming out on Keith and Dave's pegs, and the grapevine reckoned that Clive had a couple of lumps early doors, but sport seemed generally slow around the Lake. In fact Clive came for a stroll round to see how others were doing, a sure sign that it wasn't going well for him, handily though he was just in time to get an action shot of me landing what would prove to be my biggest fish of the day ……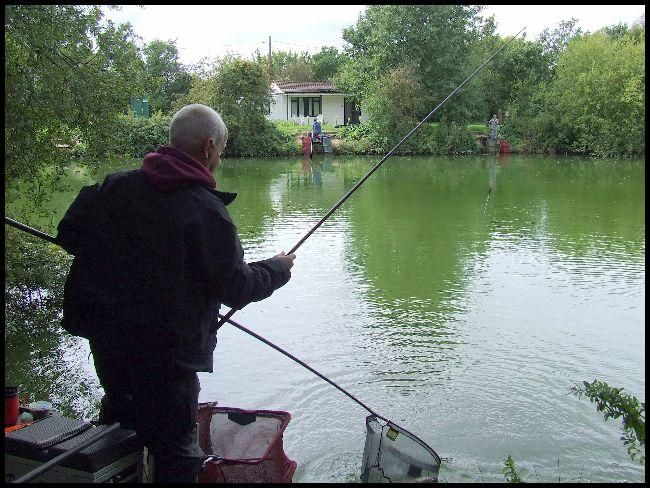 Colin was struggling for a bite, and I'd not had any indications on the couple of occasions that I'd dropped into my right hand line, but I'd heard a bit of splashing coming from my left, so obviously Terry was getting a bit of action. I was getting little spurts of action, 1 or 2 fish then a gap before a bit more action, the vast majority of my fish were Carp with just the occasional silver, while Pete who seemed to be catching at a similar rate appeared to be getting a much larger percentage of silvers.

I've been having a bit of trouble with my right knee for a while and today it was really giving me grief so around half way through I decided to have a stroll as my knee felt like it was starting to seize up. Looking across I could see that Keith already had 3 nets in!!! was he bagging or just being prepared?……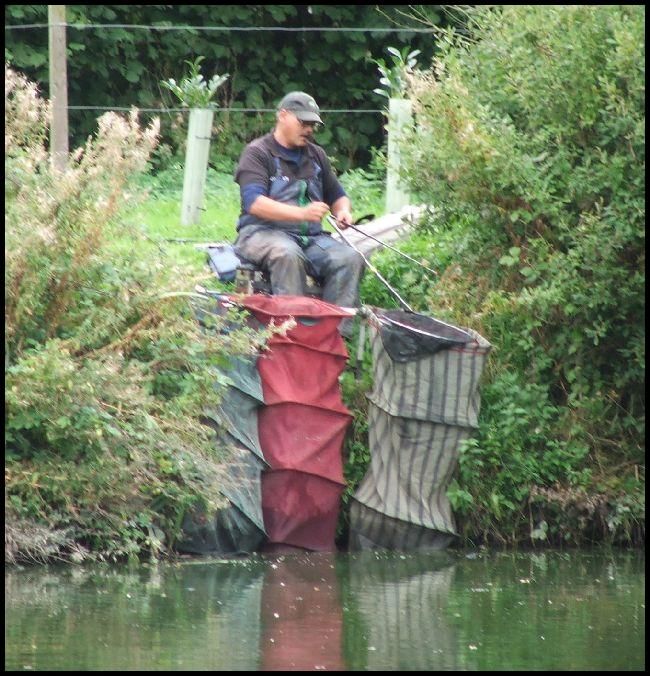 Colin had at last got a couple in the net, but Martin was confessing to being behind his young son Harry in the catching stakes. Judy had moved to her inside line as the wind made things awkward on her longer line. I then arrived at the Birthday Boy himself, and I have to say that the mood was far from celebratory, probably due to the fact that he hadn't had as much as a bite at that point……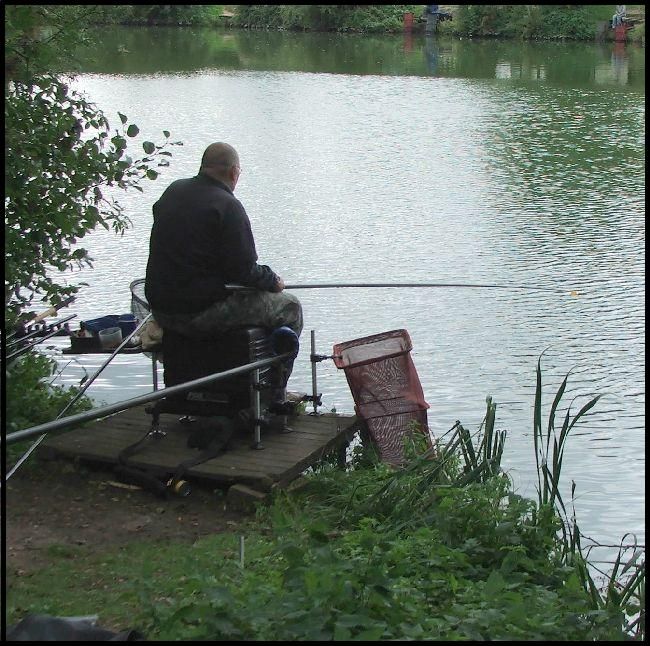 Clive was wearing that well worn expression of his once more, he'd had a few early fish, but hadn't had a bite for a couple of hours and was beginning to wonder where the next one was coming from ……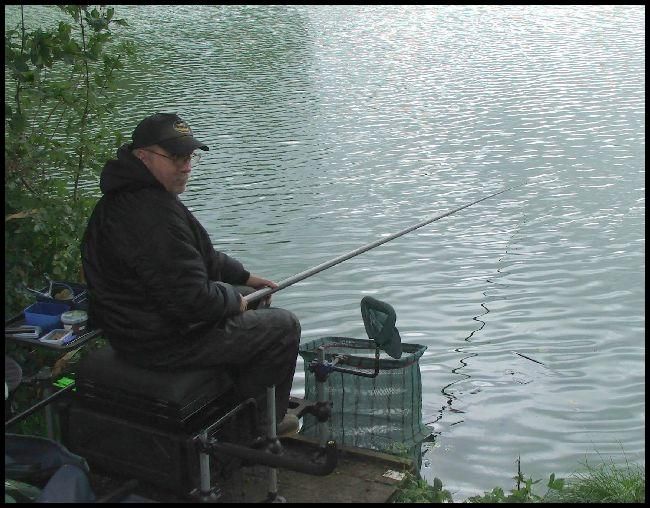 A bit further round and Dave was admitting to having a few in his usual cagey way, while Keith was making light of the fact that he had those 3 nets in. I thought I'd better take a spare for myself while I was round there though just in case. Tony was having a bit of a mare with fish obviously in his peg but refusing to get their heads down and have a feed…….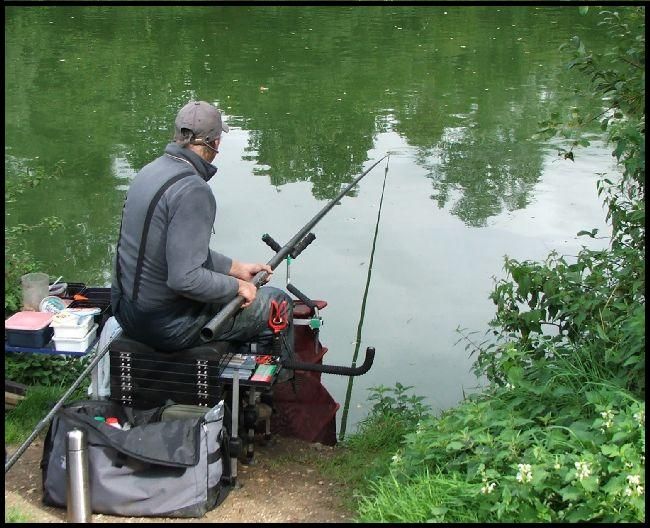 Pete was having a short stroll by then having been seen off by a rather sizable lump down his margin. Terry had the reasonably contented look of a man who was steadily putting a bag together from under the tree to his left ……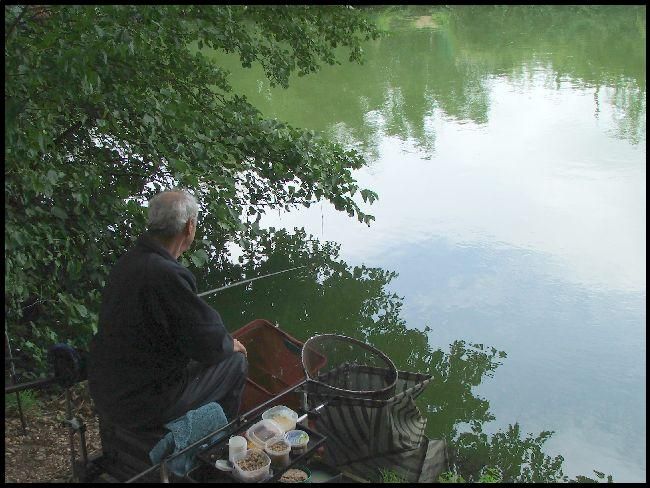 Back out to the edge of the tree at 5mtrs once more and it was just a question of steady away, Jean had provided another cup of coffee and slowly and surely I managed to keep the Carp coming in ones and twos for the remainder of the match……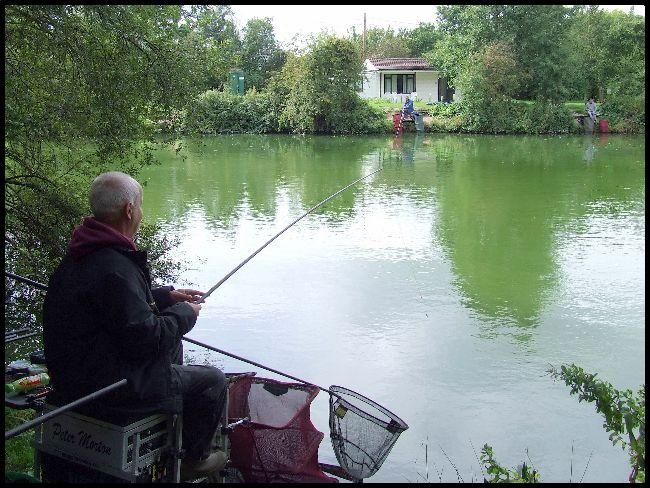 By the time that Dave blew the whistle for the All-Out I had 30 Carp to show for my efforts and half a dozen silvers which hopefully would give me somewhere around 65lbs. We soon had our kit packed away and the weigh-in reached us quite quickly so obviously there hadn't been to many big weights. Pete's 36½lbs leading by the time they got to Terry. Terry had indeed been quietly been doing the business and put a fine 50½lbs on the scales that would be good enough for third place on the day. I was next up and my fish weighed in at an even 74lbs which as it transpired was enough for the win. Harry beat his dad by 4ozs – 0 while poor Kevin suffered a blank as well.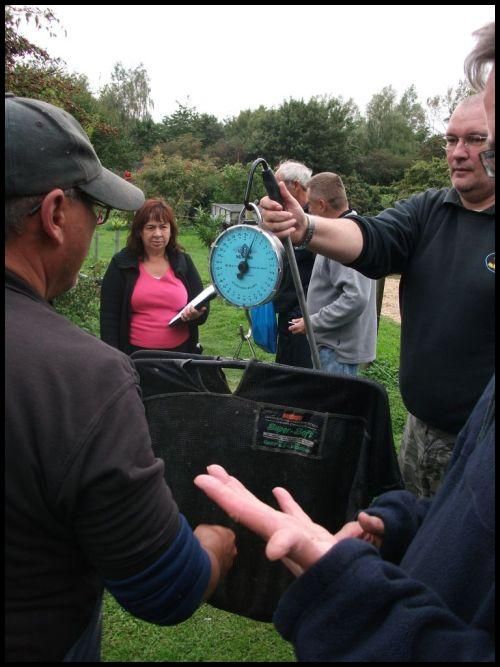 Clive's 38¼lbs was edged out by Dave's 38¾lbs while Keith was left to rue a biteless last hour when his fish weighed in at 64¾lbs to take 2nd place overall.
So with the weigh-in concluded it was back to the club house for the results where Kev and Jean had arranged for a buffet to be laid on.
Pride of place went to Kev's Birthday Cake ……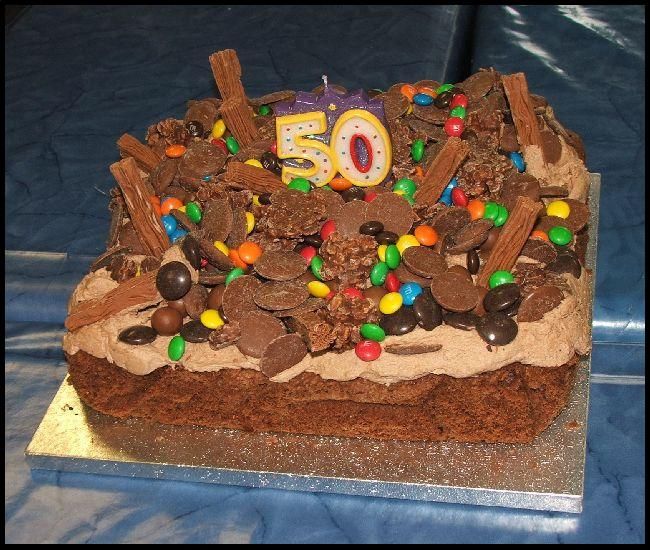 ………and once the big fella had blown his candle out…………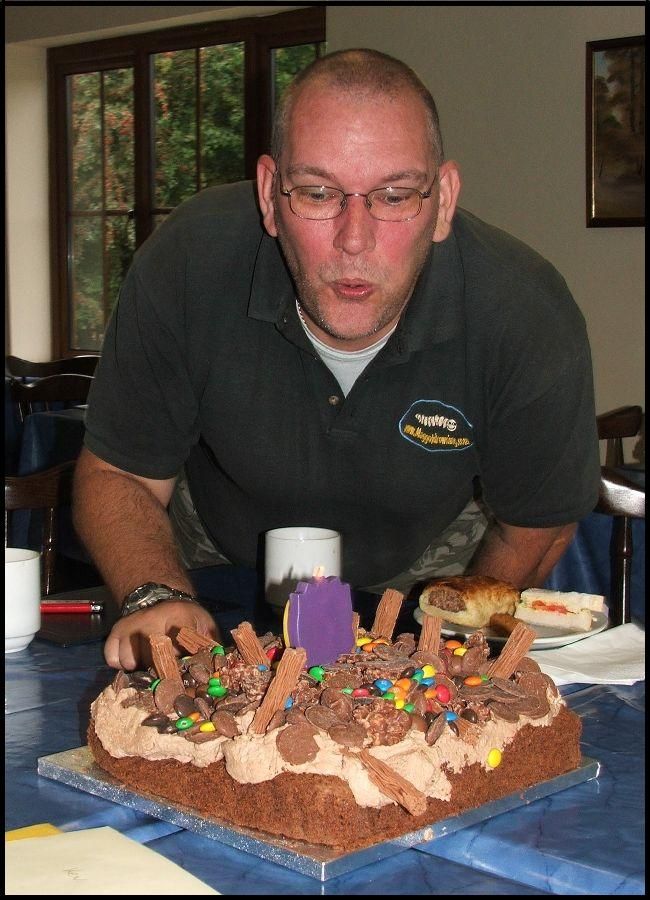 ……………. and we'd sung a rousing chorus of

HAPPY BIRTHDAY

everyone tucked in.
I'd like to say

A BIG THANK YOU

to Kev and Jean for treating us all to the day out in celebration of his

50th

, certainly a different way to celebrate a Birthday. Cheers Kev, and may you have many more to come.
| | | | |
| --- | --- | --- | --- |
| Position | | | |
| 1st | Peg 7 | Peter Morton | 74lbs 00ozs |
| 2nd | Peg 16 | Keith Ashby | 64lbs 12ozs |
| 3rd | Peg 6 | Terry Goff | 50lbs 08ozs |
| 4th | Peg 15 | Dave Collier | 38lbs 12ozs |
| 5th | Peg 12 | Clive Pritchard | 38lbs 04ozs |
| 6th | Peg 3 | Pete Thompson | 36lbs 08ozs |
| 7th | Peg 13 | Jim Boase | 24lbs 08ozs |
| 8th | Peg 1 | Tony Roberts | 22lbs 00ozs |
| 9th | Peg 5 | Graham Manning | 17lbs 00ozs |
| 10th | Peg 2 | Simon Watkins | 9lbs 08ozs |
| 11th | Peg 10 | Judy Hermite | 7lbs 08ozs |
| 12th | Peg 8 | Colin Sharrard | 7lbs 00ozs |
| 13th | Peg 14 | Nick Bondeau | 2lbs 00ozs |
| 14th | Peg 9 | Harry Hucker | 04ozs |
| 15th= | Peg 9 | Martin Hucker | |
| 15th= | Peg 11 | Kevin Loveland | |