The Jinx Series 2012
Match 4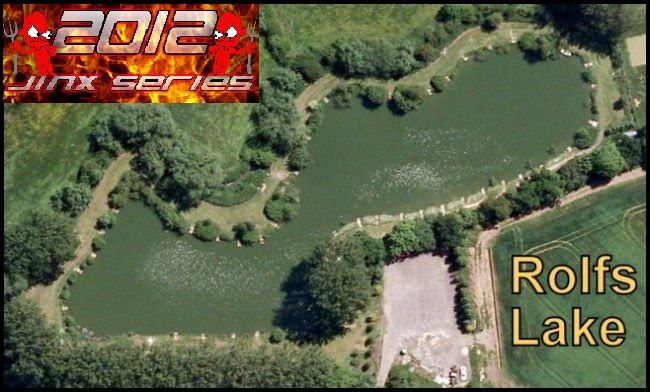 It's back down to Rolfs Lake today for the 4th match of this year's

Jinx Series

. With the Series reaching its halfway point there will be a fresh draw for the sections on the final three matches today which could have a big say in deciding the outcome of the Series so there will be a few anxious anglers come draw time.

A peak out of the window today confirmed that it promised to be a scorcher today so having fed the cats and loaded the kit I made an early start. Things went horribly wrong when I reached Battersea however when I found the Café where I usually stop for breakfast closed totally throwing my pre match preparations into disarray, so back into the car and off to Rolfs with a quick stop at Asda's for a couple of wraps to sustain me which meant that I arrived at the lake around 9am.

A few of the lads were already there having fished the Friday Night Match, and chatting to Malc it seemed that it had fished hard and the general consensus seemed to be that it was going to be more of the same today. The fresh draw for sections today seemed to have ensured that most were there in good time, however three were missing today, Dave Moore, Geoff Palmer and Ade Williams meaning they would have to take their chances on which section was drawn for them, however it did give Michael Corsini and Paul Jay the opportunity to fish today.

Meanwhile Gem had been to Asda's and returned with Cornetto's for all. Thanks Gem, much appreciated and it went down a treat. Next up was one of those events that you only see in a

Jinx Match

, Paul received

The Pink Hat

much to everyone's amusement with a photo being immediately posted on Facebook for Paul's wife Jayne to see ……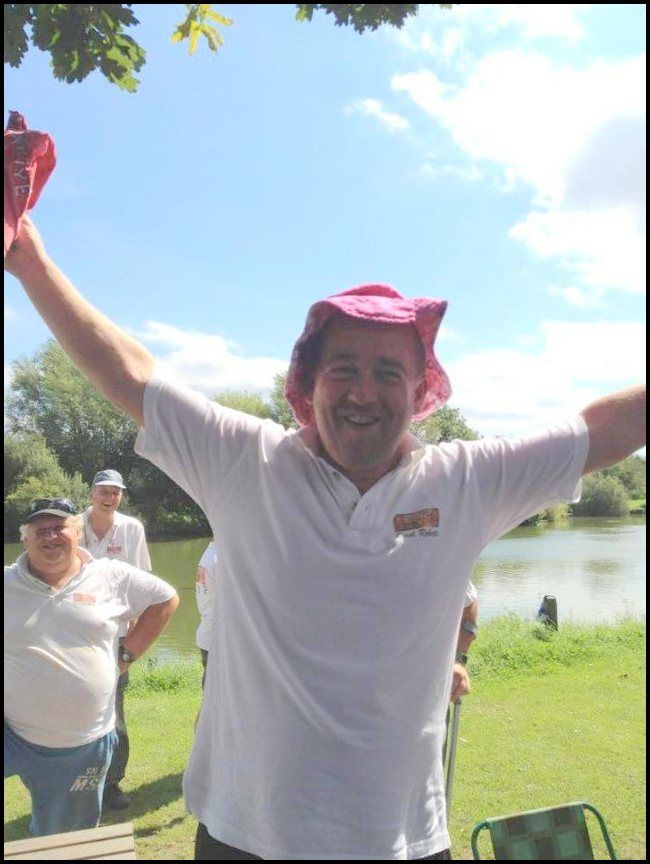 So around Noon Malc called the draw. I got in early and got peg 24 in C section for my troubles. It hadn't been fished last night so wouldn't have had any bait, but at least it would be shaded on the car park bank for most of the match. Side bets of a

Golden Nugget

were struck with Neil, Gem and Michael and having collected my kit I made my way to the peg. For company in the section I had Nick Williams on peg 28 and Michael on peg 26 (fishing for Ade) while on peg 22 was Nick W-P. Opposite on peg 18 was Paul with Neil on 16 and Budgie on 14 completing C section.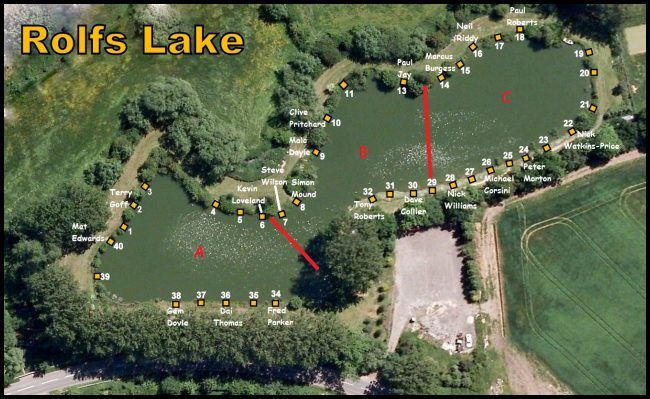 The rigs today were all freshly tied and were my favourite Nick Gilbert handmade Power Pencils in 0·5g and 0·4g sizes that were made up on 0·21 Ultima power match with size 14 Guru MWG's to finish off to cover a 5mtr line, the bottom of the slope at the end of the right hand bush and a third in front of the platform on empty peg 25. I also set up a bomb rod to fish a banded pellet out by the aerator. Bait was a mix of 4 and 6mm fishery pellets for feed with about 3 pints of them wetted down and 6, 8 and 11mm hard pellets along with some GOT Baits paste and corn for the hook.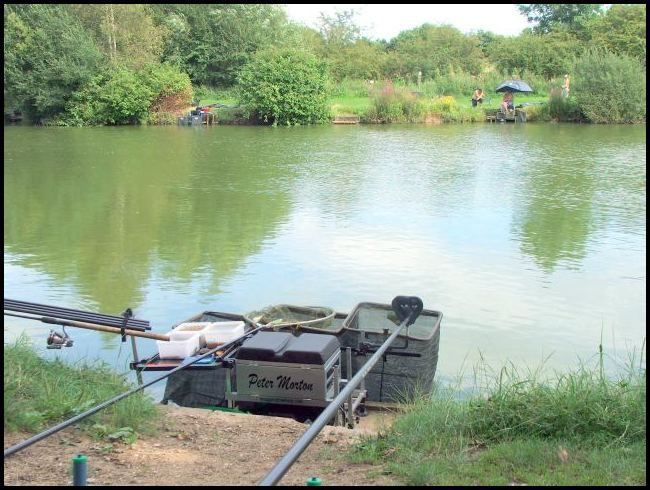 At 2pm the All-In was called and with all three lines fed it was out to the aerator with a banded 8mm on the bomb rod to see if I could nick an early fish. It was not to be, however Paul had an early fish over on peg 18 on the pellet wag before taking a look with the pole ……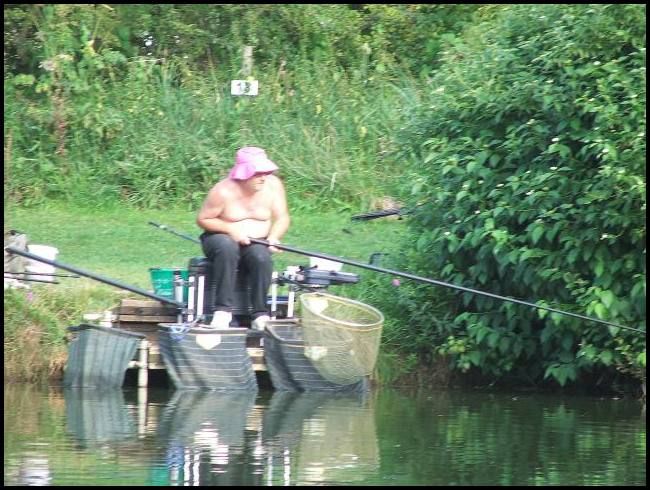 …… and it looked as if Tony down on peg 32 had some early action as well, but it was Simon on peg 8 who had got off to the best start storming into an early lead with 5 fish.

20 minutes on the bomb hadn't produced as much as a knock for me so out to 5mtrs with a banded 8mm as there were a few signs of fish over the feed. It really wasn't happening though for most of us in the Big Lake today and it was starting to look like it would be a real struggle for most and in fact an hour had passed when Neil called over to me asking if I'd had any bites and as I replied 'No' the float slid away !!!! Straight away I could feel that the fish was foul hooked as I struggled to control it, however slow steady pressure saw me prevail and finally slide a Mirror tail first over the net and at 11½lbs I was off the mark.

The next bite produced a similar result and produced an 11lb'er, but young Michael wasn't quite so impressed as he'd suffered with a couple of foul hookers but hadn't managed to get them into the net which led to plenty of banter between the two of us.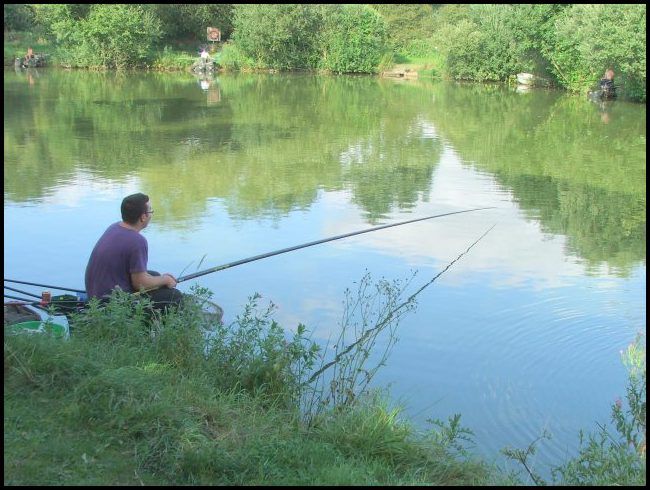 Over the course of the next hour or so a couple of net fish put in an appearance for me to keep things ticking over but the next bite saw a fish power off and in all honesty all I could do was hang on as this fish gave the gear a real work out. I finally managed to get a look at it after around 5 minutes, a big common which appeared to be hooked in the pectoral fin before it charged off again. Of course Michael was full of encouragement and seemed genuinely delighted when I managed to slide the landing net under it, even more so when the scales on the weigh station registered a weight of 19½lbs.

Landing the fish had taken a while though and it had ploughed through the swim wreaking havoc, so I re-fed and took a short stroll to see how others were doing. Tony was up on peg 32 and it looked like he'd had a reasonably good start to the match, but it turned out that he'd suffered with foul hookers and had lost a few fish so was now taking a look down his right hand margin ……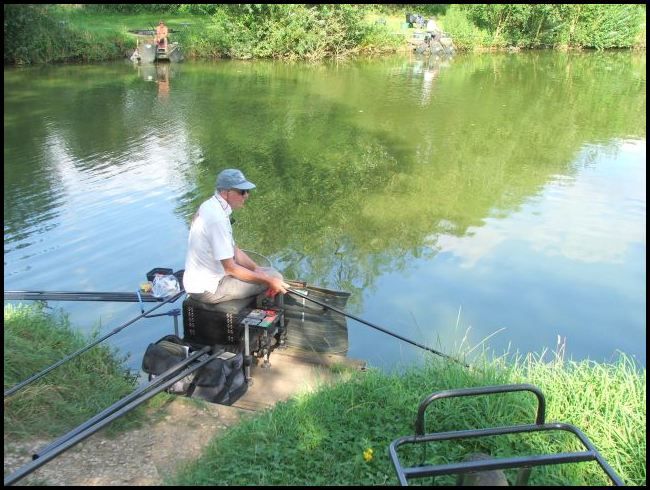 Simon was nowhere to be seen, but he was having such a good match that he'd gone off to get another keepnet. However Simon's good fortune meant that he was stopping the fish coming round to peg 9 and Malc was suffering a real grueller of a match ……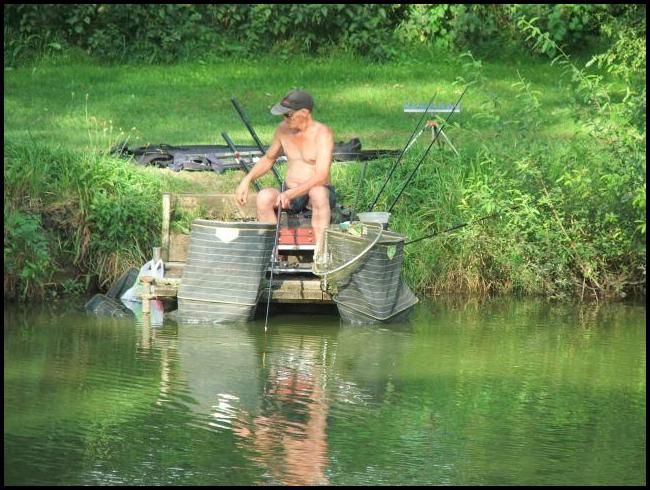 Clive seemed to be suffering a similar fate on peg 10 with no fish coming round from the right and Paul Jay on peg 13 seeming to stop the fish moving round from the left as he appeared to be catching better than most on the Big Lake……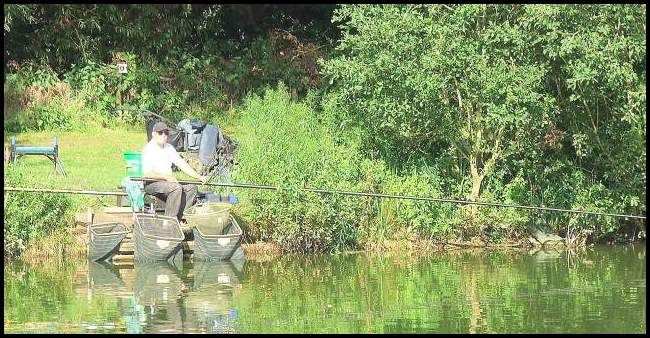 I could see that The Minx was down on peg 38, but it didn't look it was happening for her either, though it was one of those pegs where the fish can turn up at any time, meaning she could still be a danger as the match wore on ……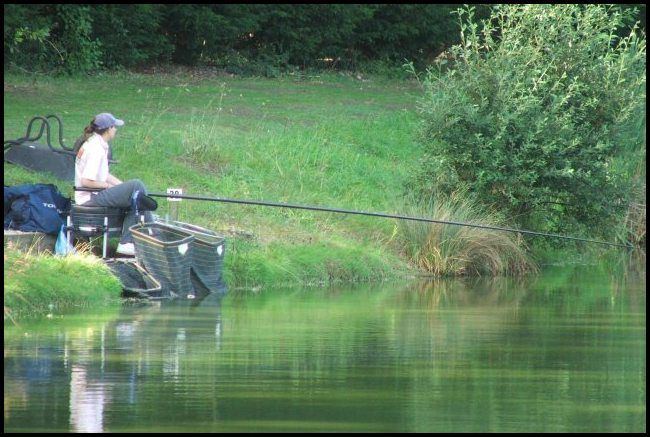 Fred was trying his best on peg 34, but yet again it didn't seem to be producing the goods today, and that seemed to be the story for most……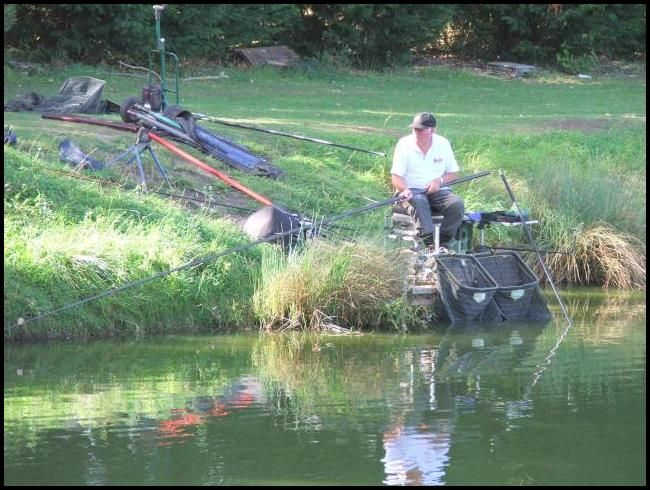 Back at my peg there was a bit of fizzing on the 5mtr line to offer some encouragement and the next hour and a half produced another 5 net fish to keep things ticking over for me and Nick W on peg 28 started to put a few together to put pressure on Michael who was still suffering frustrations with foul hookers.

The last hour cost me however as I just couldn't buy a bite from any of my lines while Neil over on peg 16 started to put a run of fish together ……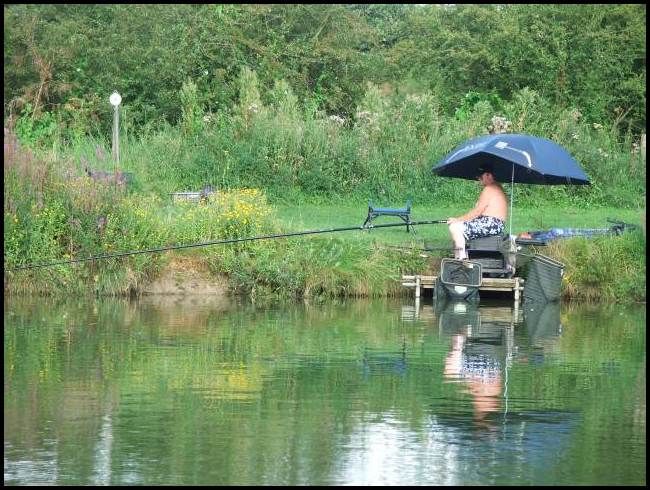 and Paul added a couple of decent fish late on as well, along with Budgie getting in on the action over on peg 14 ……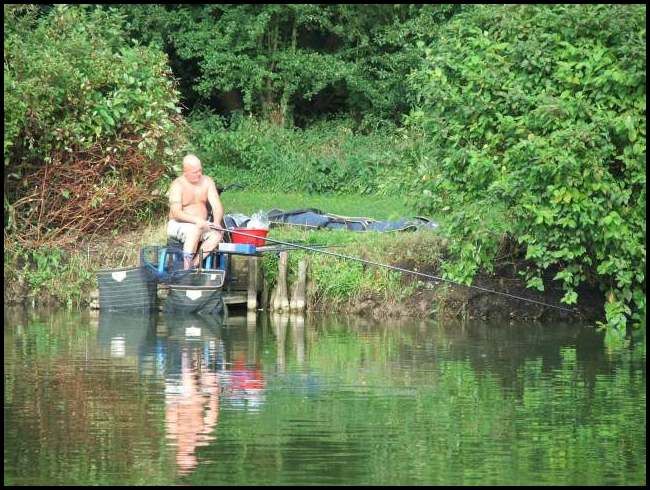 7pm saw the All-Out called leaving me frustrated, as I'd hoped for a decent last hour, but it hadn't happened and I felt that it had cost me the section, the Weigh-In would tell all though but I wasn't feeling confident. I soon had my kit packed away and back to the car and chatting to a few of the lads it was obvious that it had been a struggle for a lot of people today.

Round to peg 34 for the Weigh-In and Fred started things off in A section with 45lbs 5ozs followed by Dai with 38lbs 11ozs.

The Minx

has a real struggle today and could only manage 23lbs 11ozs leaving a lot of very relieved anglers. Mat had managed a decent 90lbs 11ozs closely followed by Terry with 83lbs 5ozs, but it was Kevin who took the A section honours today taking full advantage of peg 4 not being fished with 103lbs 7ozs from peg 6. Onto the first half of B section and Steve had managed 66lbs 9ozs but had been totally eclipsed by Simon who put an excellent 225lbs 2ozs on the scales. Malc's day didn't get any better either, his 22lbs 10ozs meaning that daughter Gem added him to

The Minx List

again. Clive managed 27lbs 1oz but Paul Jay took 126lbs 3ozs from peg 13 to complete the first part of B section. C section saw Budgie weigh 61lbs 10ozs and Neil recorded 91lbs 3ozs only to be edged out by Paul and

The Pink Hat

with 95lbs 4ozs. Round on peg 22 Nick W-P put 25lbs 9ozs on the scales and at least avoided a

Minxing

, while my fish came to 81½lbs. Michael weighed 43¼lbs and Nick W put 68lbs 10ozs on the scales to complete C section. Dave C recorded 34lbs 15ozs from peg 30 and Tony was last to weigh with 99¼lbs to complete B section.

Once more it was back to the hut for the results and the winner today by the proverbial country mile was Simon for the second

Jinx Match

on the trot with Paul Jay in second and third going to Kevin. The section winners were Kevin, Simon, and Paul Roberts.


The Minx

claimed just 1 victim today, her Dad (

The Jinx

) for the second

Jinx Match

running guaranteeing that he'll be wearing it on the next match, and while I collected a

Golden Nugget

from Michael and Gem, I had to hand one over to Neil.

The penultimate match is on September 22nd, and it's all still to play for in the Series. Can Simon make it three wins in a row? we'll see on the day.
Position

Peg

Angler

Weight

1st

Peg 8

Simon Mound

225lbs 02ozs

2nd

Peg 13

Paul Jay
Guest

126lbs 03ozs

3rd

Peg 6

Kevin Loveland

103lbs 07ozs

4th

Peg 32

Tony Roberts

99lbs 04ozs

5th

Peg 18

Paul Roberts

95lbs 04ozs

6th

Peg 16

Neil Riddy

91lbs 03ozs

7th

Peg 40

Mat Edwards

90lbs 11ozs

8th

Peg 2

Terry Goff

83lbs 05ozs

9th

Peg 24

Peter Morton

81lbs 08ozs

10th

Peg 28

Nick Williams

68lbs 10ozs

11th

Peg 7

Steve Wilson

66lbs 09ozs

12th

Peg 14

Marcus Burgess

61lbs 10ozs

13th

Peg 34

Fred Parker

45lbs 05ozs

14th

Peg 26

Michael Corsini
Guest

43lbs 04ozs

15th

Peg 36

Dai Thomas

38lbs 11ozs

16th

Peg 30

Dave Collier

34lbs 15ozs

17th

Peg 10

Clive Pritchard

27lbs 01ozs

18th

Peg 22

Nick Watkins-Price

25lbs 09ozs

19th

Peg 38

Gem (

The Minx

) Doyle

23lbs 11ozs

20th

Peg 9

Malc (

The Jinx

) Doyle

22lbs 10ozs
Position

Peg

Angler

Weight

Points

1st

Peg 6

Kevin Loveland

103lbs 07ozs

1

2nd

Peg 40

Mat Edwards

90lbs 11ozs

2

3rd

Peg 2

Terry Goff

83lbs 05ozs

3

4th

Peg 34

Fred Parker

45lbs 05ozs

4

5th

Peg 36

Dai Thomas

38lbs 11ozs

5

6th

Peg 38

Gem (

The Minx

) Doyle

23lbs 11ozs

6
Position

Peg

Angler

Weight

Points

1st

Peg 8

Simon Mound

225lbs 02ozs

1

2nd

Peg 13

Paul Jay

126lbs 03ozs

Guest

3rd

Peg 32

Tony Roberts

99lbs 04ozs

2

4th

Peg 7

Steve Wilson

66lbs 09ozs

3

5th

Peg 30

Dave Collier

34lbs 15ozs

4

6th

Peg 10

Clive Pritchard

27lbs 01ozs

5

7th

Peg 9

Malc (

The Jinx

) Doyle

22lbs 10ozs

6
| | | | | |
| --- | --- | --- | --- | --- |
| Position | Peg | Angler | Weight | Points |
| 1st | Peg 18 | Paul Roberts | 95lbs 04ozs | 1 |
| 2nd= | Peg 16 | Neil Riddy | 91lbs 03ozs | 2 |
| 2nd= | Peg 24 | Peter Morton | 81lbs 08ozs | 3 |
| 4th | Peg 28 | Nick Williams | 68lbs 10ozs | 4 |
| 5th | Peg 14 | Marcus Burgess | 61lbs 10ozs | 5 |
| 6th | Peg 26 | Michael Corsini | 43lbs 04ozs | Guest |
| 7th | Peg 22 | Nick Watkins-Price | 25lbs 09ozs | 6 |